Have you ever been to the world's largest museum? You may have heard of it, it's called the Louvre and it's located in Paris, France. It's a spectacular place filled with some of the most incredible works of art known to humankind. You may have seen it as a central location in the film, The Da Vinci Code. You know, the movie where Tom Hanks has strangely long hair. Visiting the Louvre is just one of the life-changing activities you can take part in when visiting Paris. If you're headed to Paris, there's really so much to do and so much to see!
Paris' culture and history are as rich as its béchamel sauces. Wine and dine your romantic partner, then take a walk along the Seine, it's a date made in heaven. One that will be earning you points with your significant other for years to come. So, your decision is made, you will make your way to the city of lights, but one question remains, can you get a cheap business class flight to Paris? If you're going to woo your husband or wife with a trip, there's no better way to impress than by flying business class to Paris. As you may be aware, flying business class is a little more expensive, but with a bit of discipline, you can find fantastic discount business class airfares for your flight to Paris. Flying business class to Paris is truly a luxury experience you can afford!
How to Find The Cheapest Business Class Flight to Paris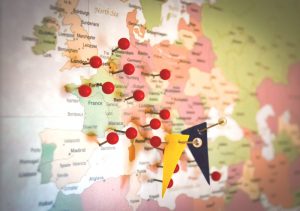 The first thing you should know about, in order to find a cheap business class flight to Paris, is a technique some call "geo arbitrage". Don't worry; it's not as complicated as it sounds. The basic idea is to look for departure cities that have cheaper fares than the city you're located in. A savvy traveler explains in the following excerpt:
You can also save on the cost of your business class ticket by using "geo arbitrage" – meaning you fly out of a different departure airport. Business and first class fares can sometimes vary significantly depending on what country the flight originates in. So for example, instead of flying business class from London, you may want to fly out of Amsterdam or Milan. 
This is a fantastic way to find ensure you are getting the cheapest business class flight to (and from) Paris that you can book. With trains connecting Paris to many other major European cities, if you can get anywhere near Paris with your flight, getting the rest of the way is easy. So if you see a great deal on business class flights to London, jump on it, then take a quick and pleasant train ride through the English Channel. It might not be as convenient as hopping on a Paris to New York business class flight, but it will be cheaper AND you'll see a little bit more of Europe than you originally intended! Sounds like a win-win.
Booking Cheap Business Class Flights to Paris
Something else you can make use of while looking for cheap business class tickets to Paris, or anywhere really, are airline credit cards. Many airlines offer their own credit cards that pay off big in incentives, which you can often put towards the purchase of your business class flight. If you have the capital to be paying off the credit card each month, this is a great way to earn business class flights. But as this luxury travel blogger warns, don't take them if you can't pay for them:
Most airlines offer their own credit cards with a juicy incentive of airline points if you spend a certain amount on the card.  Only do this if you are going to pay of the amount you spend, in full, at the end of each month.  The points will add up very nicely quite quickly!

These cards are very enticing but DO NOT use them if you cannot pay off the amount you spend each month.  The interest rates are shockingly high.

However, if you can pay off in full this is a great way of getting a lot of points very quickly.
With these tips, you should be better equipped to find a cheap business class flight to Paris. Happy hunting, and enjoy yourself, because life is all about the journey. And if you need a little more help booking your business class flight to Paris, just ask us! We'll help you find the best business class  flights to Paris that fit in your budget. With us you'll save time AND money! What have you go to lose? Just click the graphic below to get started!