Paris is one of the top destinations in the world, famous for its incredible cuisine, legendary landmarks, wonderful arts scene and unique culture. Known as the "City of Light," this exceptional city is guaranteed to delight both seasoned and inexperienced travelers.
Traveling from New York to Paris in business class is the best way to fully enjoy your trip from the moment you arrive at the airport until you get back home.
Five-Star Cuisine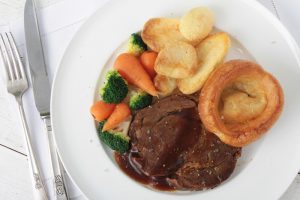 Are you sick of eating disgusting food in economy class? The next time that you're planning a trip from New York to Paris, be sure to purchase business class tickets, and you will be amazed at the quality of the meals. Enjoy delectable dishes, from black caviar to filet mignon, and see the difference that premium tickets make in your dining options. No more mystery meat for you! Live life to the fullest with business class flights to Paris.
Curious what might be on the menu? Check out these options on one of Lufthansa's business class flights:
Medium-rare Roast Beef with Sauce Remoulade and Potato Salad
Burratina, soft Buffalo Mozzarella Cheese, with Rocket Salad, Tomatoes and Pesto
Prawns on Artichoke Ragout, Gnocchi and Basil Olive Oil
Gouda, Mölltal Cheese and Montagnolo Blue Cheese with Apricot Mustard Chutney
Buttermilk Mousse with Rhubarb Vanilla Compote
Posh Seats Aboard The Plane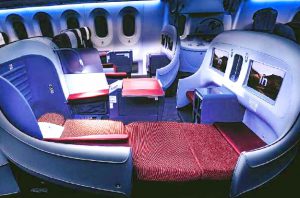 If you've only ever traveled in economy class, you are well aware of how cramped and uncomfortable it is aboard the plane. Purchasing tickets from New York to Paris in business class guarantees an entirely different experience.
You will be amazed at the size and comfort of your seat, and can even recline your seat to be fully-flat to let you get some much needed rest during a long flight, allowing you to arrive in your destination feeling completely ready to enjoy your stay.
Airport Lounge Access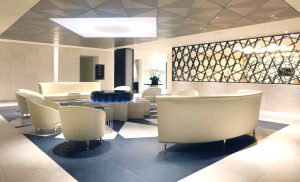 Long-haul flights can be tiring, but gaining access to airport lounges will allow you to relax and rejuvenate during your trip from New York to Paris in business class. The lavish environment will make you feel better as soon as you enter, with a wide range of entertainment options to make your waiting time enjoyable. Take a moment to unwind by indulging in exclusive spa treatments, relax on comfortable furniture, or get important work done in fully-equipped business areas. The choice is all yours when you spend time in premium airport lounges during your journey.
Superior Service
The staff-to-passenger ratio is much higher when you travel from New York to Paris in business class, and it makes a massive difference in how you're treated. Premium travelers experience exemplary customer service at every step of the trip, from priority boarding and security checks to the time on the flight itself. Forget all about waiting for another drink or standing in long lines that seem to never move forward. Purchase premium tickets and enjoy the best service in the travel industry every time.
Flying from New York to Paris in business class is the best choice you can make to ensure that you arrive feeling your very best, after eating incredible food, resting in an exceptionally comfortable seat, and experiencing exemplary customer service. Make the most of your travel time by purchasing premium tickets, and you will be certain to enjoy every step of the journey.