Every year, nearly 16 million visitors travel to the City of Lights, the majority of who come from the United States. Whether you're thinking of traveling to Paris for business or for pleasure, it's important to know which airline offers the best business class to Paris so that you're guaranteed to arrive feeling your best. Luckily for Americans, there are many top-notch business class airlines to choose from to suit any particular need, but it certainly helps to know where to book business class flights for the best price while still getting the best business class seats out there. You can either pay a lot to fly in cheap business class seats or pay a little to fly the best business class flights to Paris possible. It's all a matter of who you book with!
Finding the Best Business Class to Paris
A large number of American business class travelers to Paris will depart from or transfer through New York's JFK Airport. The below infographic shows which airlines offer direct business class flights between New York and Paris, and which airlines offer the best business class seats on those flights.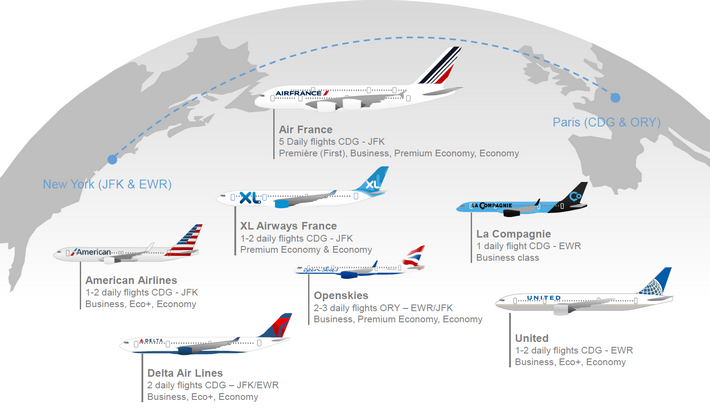 As you can see, American Airlines, Air France, La Compagnie, United, Openskies, and Delta Airlines all provide business class flights to Paris from New York. Of all of these, American Airlines, because of their fantastic new business class cabins that feature fully flat-lying seats, amazing staff, and above-and-beyond customer service, consistently rates the highest. They simply offer the best business class to Paris available on the modern market.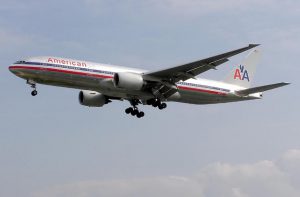 American Airlines flies between Paris and New York, Philadelphia, Boston, Charlotte, Chicago, Dallas/Forth Worth, Los Angeles, and Miami. Cory Moore of the Moore With Miles travel blog was lucky enough to fly with American Airlines from Paris to Chicago, and wrote a glowing review of the experience. Especially notable was the in-flight entertainment system and highly customizable lighting, which allows for the ultimate sleep on an overnight flight, one of the true perks of flying business class!
Overall I found the seat a comfortable way to cross the Atlantic. The seat turns into a fully lie-flat bed which led to a very nice nap in the middle of our flight. We flew a day flight home, but after the cabin crew dimmed the lights and windows the cabin was definitely dark enough to sleep. As many of you know, the windows on the 787 do not have window shades, but rather feature a dimmer switch to dim the windows the block out light. When fully dimmed you can still partially see through the window, but there's almost no light penetration from the outside. I personally love this feature because the flight attendants can dim the windows at any time and actually lock the window from being 'opened.' In the middle of our flight I tried to click the dimmer button, but the windows were locked in the fully dimmed configuration.
Booking the Best Business Class to Paris
You'll be sure to book the best business class to Paris when you work with a specialized luxury travel agency who can help you find cheap business class tickets for the exact flight that you're looking for. Wholesale Flights is exactly this type of agency! We have access to all the best business class deals to Paris, and to anywhere else in Europe! Say Oui to the experience of a lifetime! Treat yourself to all of the sumptuous cuisine, comfort, and friendly, courteous service that you'd expect from the best business class flights to Paris money can buy without having to pay a lot!