Most of you probably wouldn't think of the words 'cheap' and 'business class flights' as going together. Long thought of as a mode of transport only for the rich and famous, a lot of people have mistakenly ruled out flying business class. The truth is that in today's economy with airlines competing hard against each other for your business, there is indeed such a thing as cheap business class flights, and we're going to help you find them!
How to Get Cheap Business Class Flights?
A quick web search may not immediately lead to the discount business class ticket prices you were hoping for. You'll probably see flights that cost many thousands of dollars. To the untrained eye, business class flights may still seem unobtainable. But you need to dig a little deeper. With the right methods, you can find relatively cheap business class flights. We're experts at finding discount business class airfares and we're here to equip you with some of the tactics you'll need.
There are plenty of different ways to get great deals on business class flights. As you start to learn the many tricks of the trade for hunting down the best business class deals it can actually be a bit difficult keeping track of all of them. You may read one way to find cheap business class tickets in one place, and another thing somewhere else. From knowing the right times to book your tickets to flying from a smaller airport or to certain city slightly off the beaten path, there are many tricks to finding discounted business class airfares that you can make use of to save money. The following infographic can act as a cheat sheet for you in your business class booking endeavors: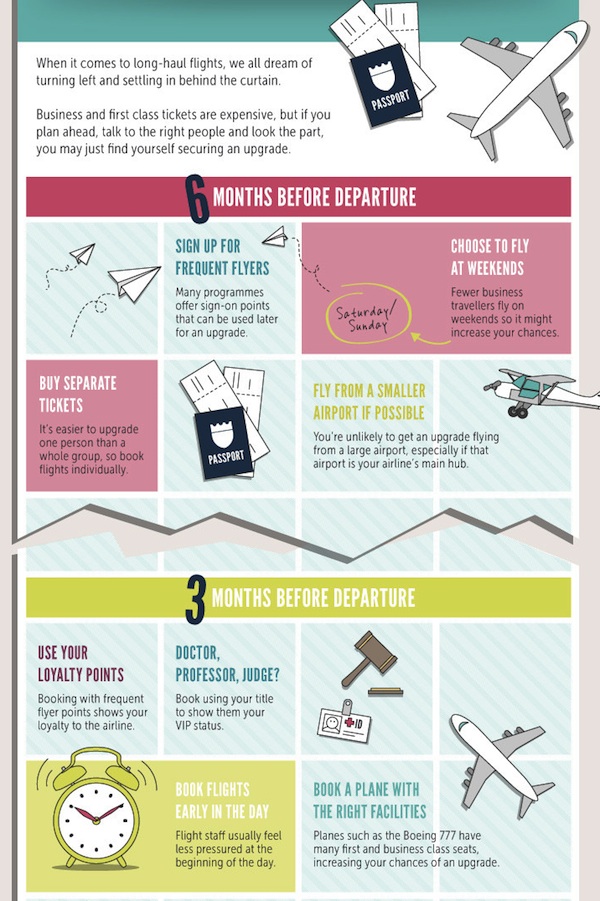 As you can see, there really are some great ways to find cheap business class flights out there, and they're really not too hard to make use of. Signing up for frequent flyer miles? Check. Booking your ticket using loyalty points? Easy enough. Book your flight early in the day? You're basically getting paid to set your alarm clock! Choosing to book your business class flight during down times like the weekends when business travelers are less likely to fly? That probably is even better for you if you're going to fly business class to take your vacation. An who would've thought that even something like using your professional title could help you get cheap business class flights? You may not get much respect from your math students when you're teaching advanced trigonometry, but the airlines may take notice when they see you're a professor.
The Best Time to Buy Business Class Airline Tickets
Now that you have your cheat sheet, we thought we'd dive a little further into one of the most important aspects of booking a flight; when to do it. What day you book your business class flight matters a lot and can potentially save you tons of money. While there's no way to be totally precise with something like this, we can look at averages and book based on them. The infographic below shows us the best time to buy business class airline tickets: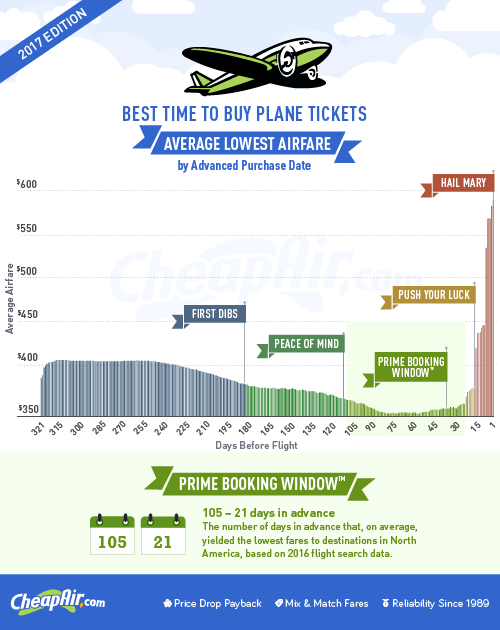 As you can see, booking anywhere from 105 to 21 days in advance is ideal to find the best discounts. The main takeaway here, though, is not to wait until the last minute to book your business class flight. It sounds obvious and yet, people make the same mistake again and again and end up paying a premium. Please, don't wait; you'll regret it. There's nothing worse than remembering too late about a flight you need to take, and seeing the astronomical prices that you're now forced to pay.
Discount Business Class Tickets Are Just a Few Clicks Away!
If you have your heart set on flying business class on a budget, it can be done. By employing these tips and tricks, you just might find that flight of your dreams at bargain prices. Be patient and persistent and the best discounts will reveal themselves to you. As they say, Rome wasn't built in a day. You might not find cheap business class flights on the first try, but stick with it, and we're confident you'll be rewarded. And if you can't find a good deal on your business class tickets, feel free to ask for our help! Wholesale Flights is in the business of sourcing the best discounts on business class airfares. We can literally help you save 30-70% off! Just let us know your destination with enough advance notice and we'll do the rest. Happy travels!