When it comes to business class flights to London, there are lots of quality options. As one of the top European destinations for American travelers, it's not hard to find an airline ticket that gets you across the pond. But there's a difference between any old business class flight experience, and a really magical one. Getting the most out of your trip isn't just about what you do once you've landed, it can be equally important to enjoy yourself up in the air. That's why we're here to let you know which airline has the best business class to London.
British Airways Business Class Reviews

We review a lot of business class flights to London, and we really have to say that our top choice is British Airways business class. And we're not alone! British Airways is consistently rated one of the top business class flying experiences. And since you're flying to London, why not do it in true British style? One thing you have to love about the English is their penchant for serving up hardy and delicious breakfasts. An English breakfast truly is the stuff of lore! The folks at British Airways make no exception by making this unique culinary tradition a part of its business class flying experience. An impressed blogger outlines some of BA's food choices in the following snippet:
Served on white tablecloths, the BA Club World flight came with the best of British breakfasts plus the choice of an evening meal. Unlike on some other flights, passengers were left to take their time and enjoy their food. And while it may not rank as some of the best food on earth, it certainly ranks among the best to eat on a plane.
As this blogger points out, there's more to take into account than just the food; the etiquette surrounding the dining experience make it a uniquely English experience that is sure to start your vacation to London in a great way. Just make sure to save some room for a spot of tea at the end, because that comes with the meal too!
The Benefits of Flying British Airways Business Class to London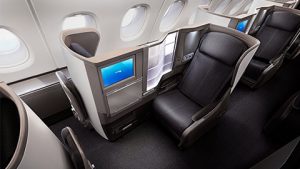 Eating well is just one way to feel good on the long haul flight to London. The ultimate goal is to have as relaxing and recharging a flying experience as possible so that when you land all of your energy can go towards enjoying your vacation. Often the best way to do that is by sleeping. Many of us know the near agony of attempting to dose off in an economy class seat. Inside of British Airway's business class cabins, you won't have that problem. This travel blogger who traveled from London to New Orleans on BA business class can attest:
Sleep made the flight flash by, which is a significant reason I'd splashed out on a Club World seat in the first place. It meant I could land, head out without feeling wrecked, and get to bed at a normal time to beat the jet lag, which was crucial on a three-day trip. I landed in New Orleans at around 7:10pm and was out and into the Crescent City within minutes.
Nobody wants to spend the first few days of a trip recovering from a long flight. Your vacation only lasts for so long. Don't waste time having to recover from a long uncomfortable flight. Fly on one of the best business class flights to London and start your vacation in tip top shape!
There you have it. As far as which airline has the best business class to London goes, there are lots of great choices, but we think British Airways is an experience head and shoulders above the rest. We hope you have the chance to experience it for yourself. And if you're looking for cheap business class tickets to London, we'd be happy to help! Happy travels!