Business class is the only way to really be sure that your flight experience will meet your expectations for comfort, efficiency and luxury. However, not all airlines are created equally, and the next time you're booking business class flights to London, it's highly worthwhile to do some research to ensure that you choose the best airline for your trip.
Highest-Rated Business Class Flights
Every year, Skytrax releases a list of the highest-rated business class flights in the world, based on the impressions of millions of travelers from over 100 countries. In 2016, Qatar Airways was ranked number one, with its fully lie-flat bed, on-demand dining, a posh Giorgio Armani amenity kit, and an incredible personal entertainment system featuring over 3,000 movies, TV shows, and songs. Qatar's offerings are definitely hard to beat, but Singapore Airlines wasn't far behind, with its luxurious 78-inch bed, 18-inch HD entertainment display, delectable dining options, and exemplary customer service. Etihad Airways came in the third position in 2016, featuring a massaging lie-flat bed and an 18.5-inch touchscreen.
Business Insider lists the 10 best business class airlines in the world, including a brief description about their services and amenities. The following is an excerpt from Business Insider about some of the other top Skytrax picks for 2016:
4. Emirates, the current holder of the award for Best Airline in the World, also has one of the best business class products in the industry. Business class passengers are treated to a lie-flat seat, the best in-flight entertainment in the world, a full cocktail bar, and complimentary chauffeur service.
5. Cathay Pacific offers both regional and long-haul business class products. The long-haul business offering includes lie-flat seats, a luxury amenity kit, and state-of-the art entertainment system. 
6. All Nippon Airways is one of the finest airlines on the Pacific Rim. The Japanese carrier's business class offering features lie-flat seating, private in-flight entertainment, and gourmet dining. 
7. Called Royal Laurel Class, EVA Air's international long-haul business product is one of the finest in the world. Amenities include a lie-flat seat, noise cancelling head phones, and a Rimowa overnight kit. 
As you can see, each airline has distinct services and amenities available to those who book business class flights to London, so it makes a lot of sense to research your options before purchasing your tickets.
London Airports
Business class flights to London arrive at one of six international airports, with Gatwick and Heathrow being the two largest of these facilities. Not surprisingly, the passenger numbers have grown dramatically over the past few decades, but you may not realize just how much. The following infographic provides interesting statistics about the passenger growth at Gatwick: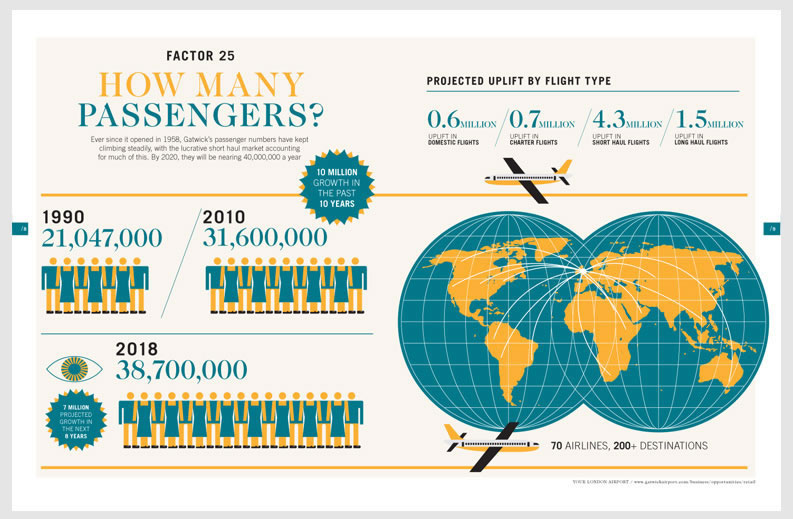 Remember, it's important to be selective about airlines when booking tickets for business class flights to London. Every company provides different services and amenities, and you want to be sure to choose the airline that best suits your personal needs and preferences. Regardless of the choice that you make, have a wonderful trip and get ready to enjoy the luxuries that await all who board business class flights to London!