If you're a business traveler, flying business class is a no-brainer. You have a job to do and failure isn't an option. By opting to fly business class you ensure that you have a far better chance to get a good rest during your flight. That means you'll arrive with the physical and mental capacities you need in order to excel.
Being tired from a long flight is not an excuse that anyone's going to want to hear. Is there a way to fly business class and not have it hit your bottom line hard though? The answer is a resounding yes. Discount business class airfare is available and there's no reason you can't stat benefiting from it today.
The Comforts of Business Class Flights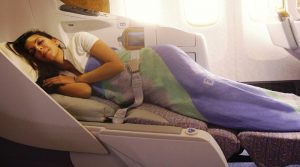 There's no need to sacrifice on quality when you book your discount business class airfare. All the comforts of business class can be found for cheap if you spend the time looking. You get everything you expect from a full price business class flight at a fraction of the cost! Like getting a fully reclining seat that lets you actually get some good rest! The need for a good sleep for a businessperson can't be overstated. No one should make the mistake of believing they can weather the storm that is flying long haul in coach, and you won't need to deal with this issue in any business class seat either, no matter what you pay. Neil Patel of Entrepreneur reiterates this in the following excerpt:
I'm used to getting eight or more hours of sleep a night, so keeping up with my sleep on an airplane is important for me. When I arrive at my destination, I'm usually rested and ready to go.

This quality of sleep doesn't happen if I fly coach. Some people might be able to use those neck pillows and feel rested, but I'm not one. I'm only as successful as I am rested. Getting my sleep on an airplane has financial ROI. It allows me to get right back to work the moment the plane lands.
Keeping your body's rhythms as close to the norm as possible is hugely important. We are creatures of habit, and when our routines are disturbed, we're not at our best. While there are many ways to find discount business class airfare none of them should have you sacrificing on comfort. By seeking out discount business class tickets you'll be allowing your body and mind the rest they need, at a price that isn't exorbitant.
Business Class Cuisine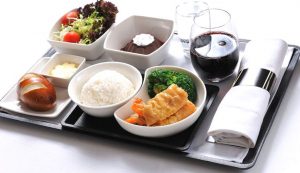 Another thing you won't be sacrificing by booking cheap business class tickets is on the food. One of the best perks of flying business class is the amazing meals you get to eat! It's a fact that your mind and body need proper food in order to do the job you need them to. As we all know, food is more than just food, it's our fuel for the day. If we eat junk, we're often left feeling like junk. When flying business class, you'll have access to good and nutritious food before your flight, and all the way along. Amber from With Husband in Tow writes below about her pre-flight meal while flying business class:
We were first business flyers to arrive for our morning flight. We were asked if we wanted to sit in the dining room to order a hot, fresh breakfast from an a la carte menu. Yes please! A fresh cappuccino, fresh squeezed orange juice, and crepes, made to order. I was so impressed. I am accustomed to buffet style snacks and treats, but having a menu to order fresh food was quiet enjoyable, particularly sitting alongside the floor to ceiling windows with a view of the runway 
Amber paints a beautiful picture here of enjoying a delicious business class meal while watching planes roll by. You can almost taste the fresh squeezed orange juice. It's high quality meals like this that help make flying business class such an amazing experience.
It sounds obvious, but taking care of one's self is more important than a lot of people think. Many of us feel invincible in a way. We think we can suffer a bad sleep, shake it off and keep going. But don't worry! You won't need to deal with poor rest or bad meals by seeking out discount business class airfares! You'll get everything that a full priced business class tickets gets, but at a fraction of the cost!