Flying business class is the ideal way to travel. No matter where you are in life, comfort and peace of mind are values that should always be at the top of your list. Too often we forfeit these things to save a few bucks. Well, what if you could have it all? The terrific amenities of flying business class, at a price that won't set you back.
When you book discount business class airfare, that's just what you're getting. If you know what you're doing, there's no reason you can't find business class flights at fantastic prices. No longer are business class flights reserved for the massively wealthy. It's time for you to start reaping the benefits. Let's take a closer look.
How to Find Discount Business Class Airfare
One feature that some airlines offer that many travelers aren't aware of is the ability to bid for an upgrade. Like any bidding process, if things go your way, you could end up getting tremendous value on a business class seat, making this one of our favorite ways to score discount business class tickets. Carolyn form Holidays To Europe explains in the following snippet:
Be aware of the airlines that allow you to 'bid' for an upgrade at a reduced rate. Etihad, KLM and now Qantas, allow travellers with a confirmed economy class ticket to bid for an upgrade to business class (or premium economy if that is the next class available) should the flight have available seats. If the option to bid is available, the airline will usually send out an email to economy class passengers booked on that flight a week or so before the flight and invite them to bid for an upgrade.
Bidding for an upgrade is a great way to obtain discount business airfare. Do a bit of research to find out if your particular airline will be offering this feature, and if they are, jump on it.
Book Your Business Class Flights at the Right Time
Our next tip is simple, yet often overlooked method of getting discount business class airfares: Knowing exactly when to book your flight to find the cheapest airfare possible. While this isn't an exact science, we can look at averages to improve our chances of getting a cheap flight. The below infographic is a perfect cheat sheet for knowing when to book your trip: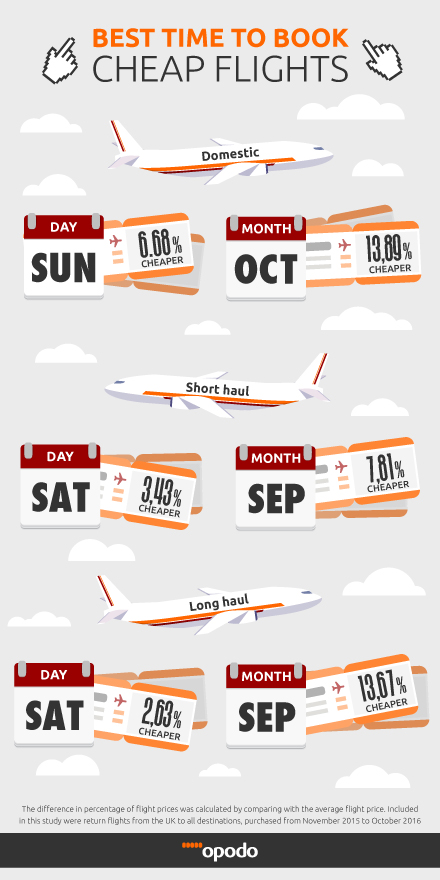 As you can see, by simply knowing what time of year you should be traveling during, you can find highly discounted business class airfare. And as an added bonus, September is a terrific month to visit many countries around the world, so it's not like you're getting the short end of the stick.
By following a few basic guidelines, you can be finding sizable discounts and flying business class at a fraction of its usual cost. If you're vacationing, plan your vacation for the cheaper times of the year. Keep your eyes open for possibilities, such as the opportunity to bid for upgrades.
Employ as many tactics as you can to obtain discount business airfare, and one of them is bound to hit. It's not rocket science. The key is to be diligent and know that there are deals to be had for those who are willing to look. So get out there and start looking!