If you've ever flown first class, you probably know the feeling of arriving at your destination refreshed and ready for the trip at hand. The problem, of course, is the price of first class tickets. If only you could fly first class and not break the bank! In other words, have your cake and eat it too. That poses the question; is it possible to find cheap first class flights? Is the pursuit of flying in comfort, at an affordable price just a pipe dream? Spoiler alert: cheap first class flights are totally within your grasp! Read on to find out how!
How to Find Cheap First Class Flights
Lucky for you, finding cheap first class flights is totally possible, so you can keep the dream alive! Many methods can be utilized to help you find cheap first class flights. Most of us have noticed that booking your tickets round-trip tends to be cheaper than booking two separate one-way flights, but in the case of first class flights the opposite can actually be true, as this popular travel blog explains in the following excerpt:
There are often only a few cheap first-class fares per flight. Instead of flying round trip on a single airline, you may find better prices by flying one way with one airline and returning with another. (On domestic flights, it's now rare that one-way trips cost more than half of a round trip.) On some domestic routes, first-class fares can be as little as $100 more than coach seats.
As you can see, sometimes thinking outside the box can pay off in a big way. Do yourself a favor and take a look at one-way tickets. You can even daydream about leaving and never coming back. Getting a small house on the beach and lying on a hammock into your golden years. Until it's time to book your return flight, of course.
Upgrades: How to Get the Cheapest First Class Flights
Another great tactic is to check for upgrade offers upon arriving at the airport. Sometimes an airline will have unsold first class seats that they don't want going to waste, as this business blog explains in the following excerpt:
Look for last-minute upgrade offers when you get to the airport, says George Hobica, founder of low-airfare alert site Airfarewatchdog. Airlines don't want high-margin first class seats to go to waste. "Recently I was offered a first class upgrade on a flight from Seattle to Los Angeles on Alaska Airlines by email just prior to check-in for $50. That was on top of a $118 one-way fare." While that's not exactly free, it's still less than the taxes and fees you would have to pay on most first-class tickets. "Naturally," Hobica says, "I jumped at the chance." (Some airlines, such as Lufthansa, Etihad and Virgin, even allow you to bid for upgrades shortly before your departure date, says Dara Continenza, travel editor at travel site Hopper.com.)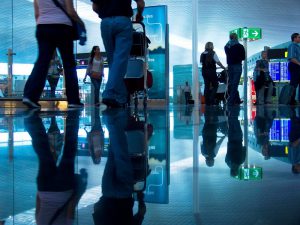 As you can see, airlines don't want their first class seats to be empty, so they just might upgrade you to first class at a very reasonable price. There's no harm in checking once you get to the airport, you just might have the best flight experience of your life.
Finding the cheapest first class flights takes a bit of knowledge and a bit of luck, but if you're persistent you will find those cheap first class tickets you're hoping for. The big lesson here is to keep your eyes open. You never know if a deal for cheap first class tickets is hiding in plain sight. Whether it's flying one-way, or checking for upgrades to first class at the airport, you just might be surprised by your fortunes. We're sure that once you get the hang of it, you'll be amazed at how easy it can be to find cheap first class flights. And just in case, if you're not finding first class tickets at discount prices after trying all that, just reach out to us! We've been at this a long time at Wholesale Flights and we know exactly where to get the best deals on flying first class anywhere online! Book your first class flight with us and you'll know that you'll have wonderful experience all around, and that the price will be the cheapest first class flights to your destination, hands down. So, Bon Voyage, and use some of the money you save to send us a postcard!