Ever taken a long overseas flight in economy class to your dream destination, only to arrive feeling haggard, sore, and exhausted? That's the typical experience of most economy class travelers, who unfortunately don't realize that although it seems like they're saving money, there's the hidden cost of all of that wasted time and energy spent recovering from the flight. If only they knew they could save 30-70% off all the best international business class airlines! They could still be saving money while experiencing the absolute comfort and style that flying international business class is all about.
What Are the Best International Business Class Airlines
The savviest travelers know that when you choose to fly business class, there is so much more included with that ticket than simply getting to board sooner and having a bit of extra legroom! The best international business class airlines out there, such as Qatar Airways, Etihad Airways, ANA, Singapore, and Lufthansa, provide exceptional services that begin the moment you check in at the airport.
According to Skytrax, the best business class flights of 2017 are provided by Qatar Airways. This coveted ranking is based on multiple factors, such as which business class airline offers the best customer service, which airline has the best business class cabins, who has the best airline food and catering, and which business class lounges stand out from the rest.
What To Expect On International Business Class Flights
Thinking of booking a flight with this fabulous airline but want to know what to expect? Well, according to Claire of The Luxury Travel Diary, a highly experienced jetsetter who has flown with Qatar Airways in business class multiple times, it's pretty unreal:
The Business Class seat offers loads of space. You can sit back and relax in a 22-inch wide armchair. Armrests can be fully adjusted to different heights depending on your activities. There is a huge shelf besides the seat for magazines and the menu and you can eat and work comfortably at the same time with the wood trimmed large sliding table. There is also a drawer and side compartment for personal belongings under the footrest and on both sides of the seats (where you also find a bottle of water and a set of noise cancelling headphones). The seats also feature a generous 17-inch personal touch screen Android TV which enables you to navigate through a truly interactive system, offering more than 1,000 movie, TV programs, music and gaming entertainment options. The seat converts at a touch of a button into different cradle positions before reaching a generous 80-inch (203 cm) long, 30-inch (76 cm) wide flat bed.
On this particular flight, Claire was offered a premium drink and gourmet appetizers 30 minute after takeoff. The menu was offered upon boarding, and if it's a night flight, business class patrons are even provided with cozy pajamas! With all the business class perks being offered, it's hard to truly rank one airline's international business class product as being the best international business class flight. They're all amazing in their own way!
Choosing the Best International Business Class Airlines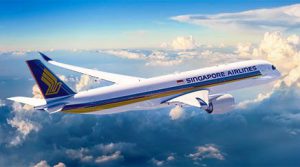 Another one of the best international business class airlines is Singapore Airlines, who not only offers one of the best business class flights to Asia but which also won the Skytrax gold for best business class seat. Claire has some sage advice for choosing where to sit on a Singapore Airlines business class flight:
The business class seating on the Singapore Airlines Airbus A350 is set up in a 1-2-1 configuration. I think rows 11 A&K are the best seats. These are at the front of the front cabin of the business class section of this A350, right by the exit and the furthest away from premium economy and economy. All seats in A&K sit on their own and have a window. If you are traveling as a couple you may prefer 11 D&F, which sit in the centre of the plane next to each other. There is not much to choose between rows 11-18, as there is a toilet and galley at both ends of this cabin. It is worth noting that row 19 has baby cot space so this is a good row if you want more space but you may be placed next to an adult with a baby. All seats in rows 19-22 fall in the more child-friendly cabin.
No matter where you're going or why, flying in business class is always a fantastic experience, especially for long haul international flights! There's no need for you to suffer in economy when you can save up to 70% off all the best international business class airlines! Wholesale Flights can find you cheap international business class tickets to practically any destination in the world! Just ask us! And be sure to keep in the loop with Skytrax and their annual airline ranking, as it's a wonderful resource when trying to decide on which of the best international business class airlines offers the flying experience you want to have. Armed with this information, you'll be taking off in the lap of luxury in no time!