Asia is an increasingly popular destination for Americans, whether they are traveling for business or for leisure, and the growing number of airlines providing business class flights to Asia reflects this fact. It goes without saying that traveling business class to asia is practically essential if you want to arrive feeling fresh and ready, not needing to waste any precious time recovering from some economy class nightmare.
How to Find the Best Business Class To Asia

So which company should you choose for business class flights to Asia? With so many options claiming to be the greatest, it's important to know what the best business class airlines to Asia are so that your long transpacific flight is as comfortable and enjoyable as possible!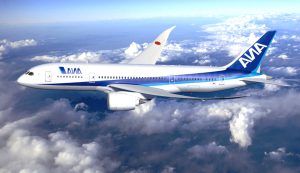 Travel expert Eric Rosen compiled a list of airlines that offer the best business class to Asia overall. Coming in at number one is the Japanese carrier ANA, which operates out of 8 major American cities, including Los Angeles, New York, and Chicago. Rosen goes on to describe some of the best business class seats that are typical in an ANA plane:
There are between 52-68 of these seats per plane on the 777. Each has 62 inches of pitch, is 21 inches wide, and is configured in a 1-2-1 pattern. The configuration on the 787 is the same, except some middle rows have just a single seat in them rather than two, and there are just 46 seats with a pitch of 59 inches and width of 19.4 inches.
When passengers want to sleep, their seat can be "made up" into a lie-flat bed with a Nishikawa Sangyo Air Cyclone bed pad that's designed to keep passengers from getting too hot or too cold, and to prevent them from slipping down on the seat. Passengers are also given comforters and pillows by the same designer.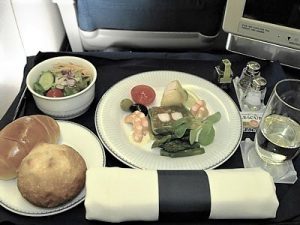 The airline also offers some of the most delectable business class meals you'll ever have the opportunity to enjoy on board a plane. The menus are created by outside chefs who run their own restaurants in Japan, and the beverage list is curated by the airline's own wine and sake sommeliers. Passengers get to choose between Japanese and international menus, making this one of the best international business class dining experiences available!
Rosen's second choice for best business class to Asia is Cathay – viewed as one of the world's premier business class airlines overall. It also runs out of 8 major North American cities.
Seats are laid out in a 1-2-1 configuration and each reclines to a full 82 inches, and is 21 inches wide. Each seat also has a 15-inch in-flight entertainment screen. Its current amenity kits were designed by Hong-Kong brand Seventy Eight Percent and contain a toothbrush and toothpaste, eye mask, booties and ear plugs, plus three Jurlique skin products.
Ranking as the third best business class to Asia is China Airlines, which runs daily from Los Angeles, San Francisco, and New York. Their brand new state-of-the-art planes made headlines when they were unveiled, and business class passengers swoon over the Sky Lounge galley bar.
Of course, you really can't go wrong with business class flights to Asia, but the three airlines mentioned in this post can truthfully be ranked among the best business class to Asia, going above and beyond expectations of even the most discriminating business class travelers.
Cheap Business Class Flights to Asia
Because we are experts at what we do, finding the best business class to Asia is something you can count on us to get right! We'll find you the cheapest business class deals online, hands down! Whether you are looking for cheap business class tickets to China, cheap business class tickets to Tokyo, or even to South Korea, we've got your covered! You don't need to pay an arm and a leg! Why settle for less for your long haul overseas flight? We can definitely help you find cheap business class flights to Asia on the best business class airlines! No matter where you are headed, you'll certainly be guaranteed an unparalleled luxury traveling experience.