Though England is across the ocean, sometimes it feels like they're our neighbors. We speak the same language, and share many of the same customs. That probably explains why London is such a popular destination for American travelers. You can hop off the plane and act, more or less, like you would in any North American city. There's no new language to get around or social norms to learn.
Of course, if you're driving, you'll have to remember what side of the street you're supposed to be on. With London being a convenient and exciting location for travelers of all types, it's important to know who offers the best business class to London. That's why we're here to help.
Who Has the Best Business Class to London?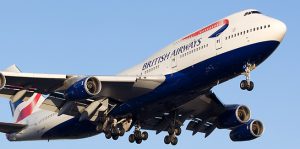 So let's start by asking, who has the best business class to flights to London? When considering which airline operates the best business class to London, a few factors come into play. Comfort, service, and amenities are all key concerns to take into account. When it comes to service, British Airways is the jewel in the crown of business class airlines that fly to England. As Jenny Southan of The Telegraph found out, BA takes your well-being seriously:
Upon boarding, a member of crew hung up my coat and offered me a glass of champagne, and once cruising, cabin service director Simon came around welcoming everyone on board and shaking their hand. 
Flying can be a bit of a sterile experience. Everything is regimented to the point that it can feel like you're just a number on a ticket. But flying business class on British Airways is nothing of the sort! The luxury and service aboard British Airways is known far and wide, and they do it all with an English flair that is unmistakable. You'll even be offered some fantastic English culinary delights like a good old fashioned English Breakfast with tea! Between the plush first class seating, the delicious English cuisine, and the amazingly kind and courteous flight attendants, it's no wonder British Airways is consistently known as the best business class to London.
Amenities on the Best Business Class to London
If it's comfort you're looking for British Airways has you covered in that respect as well. A big part of feeling comfortable on a flight is feeling that your appetite is taken care of. Being served food that's either sub-par, or just not what you feel like at the moment, puts a damper on one's in-flight experience. Andrea Black of Traveller outlined her culinary experience aboard BA in the following excerpt:
From the welcoming Bucks Fizz to the seared filet of British beef with honey-roasted parsnips, the food and beverage experience was excellent. The menu features fresh farm-to-traytable fare from the Severn and Wye Scottish salmon and Cumberland pork sausages to brie from the Cotswolds. The retro sweets selection from the help-yourself Club Kitchen in between meals was an added treat. Wines from Europe, New Zealand and Australia feature and as expected from a British carrier, there is a good selection of teas available.
You had us at "help-yourself kitchen". The above description perfectly captures the feeling of having what you need at your fingertips. Feel like something sweet? No problem. Maybe it's savory you're after. They've got that too. Have a particular tea that helps to put you at ease? You're most likely in luck. So save room after that English breakfast, because there's definitely more to come!
British Airways is a world-class airline that's figured out how to offer a tremendous business class experience. That's why it's our pick as the best business class flight to London.
If you're planning on visiting this incredible metropolis, we envy you. The museums and restaurants alone are enough to excite even the most cynical traveler. There's no reason you shouldn't fly with an equally exciting business class airline.  So get out there and book that perfect flight. Happy travels!