Whether you are traveling for business or for pleasure, nothing tops the exquisite luxury of flying the best first class airlines. Savvy travelers who choose to fly first class know that there are countless first class perks to doing so, ranging from fantastic dedicated lounges, personalized services, and exemplary meals both in the air and on the ground.
Perhaps most importantly, first class cabins on long haul flights provide the most comfortable seating and sleeping arrangements, ensuring your time in the air is relaxing and that you arrive at your destination feeling great.
Which Airline Has the Best First Class?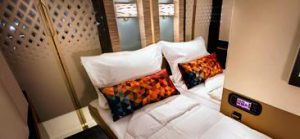 The answer to this question is highly subjective to personal tastes, with each of the best first class airlines having their own particular strengths in certain departments, while perhaps being outdone in other respects. However, based on the standardized rating system set forth by Skytrax and on objective reviews by reputable luxury travel blogs such as The Luxury Travel Expert and One Mile At A Time, there is definitely a consistent consensus as to which airlines have the best first class product overall. These are Etihad, Emirates, Lufthansa, Air France, Singapore Airlines, ANA All Nippon Airways, Cathay Pacific, Qatar Airways, Japan Airlines, and Qantas Airways, all of which offer the best of the best first class flights money can buy.
Etihad achieved the number one spot in 2017 for its first class seats and meals, while Emirates won the gold for best first class comfort amenities. The Luxury Travel Expert agreed wholeheartedly that Etihad Airways has earned the number one spot for best first class cabin, as described in his recent review of the airline's first class service:
The Abu Dhabi-based carrier Etihad Airways pushes luxury to a sky-high new level and beyond First Class with its First Apartments on board its (small fleet of) Airbus A380 superjumbos. More than just a seat, the First Apartment has a large leather armchair and separate bed of 208 cm (6 feet and 10 inches). There is even space to walk around after closing the privacy doors. Six of the First Apartments are interconnecting, perfect for when you're traveling with a companion. Alternatively you might want to invite a traveling partner from First Class to join you in your apartment for a meal or a meeting.
Etihad Airways' first class flights also feature a fantastic lounge on the upper deck of the A380, featuring a well-stocked bar, flat screen television, power supplies, and a design that is conducive to socializing and relaxing in utmost style. The restroom facilities are top-notch, with fully equipped shower room and deluxe toiletries. In addition to this, the crew is world famous for their exceptional, friendly, and professional service. To top it off, each and every Etihad First Class passenger is offered complimentary chauffeured airport transfers. Talk about first class perks!

Emirates is also renowned for having the one of the best first class cabins and service. As The Luxury Travel Expert puts it:
If you value privacy and personalized service above all else, you'll love Emirates' First Class private, gold-clad suites. Each suite comes fully equipped with a sliding door, a personal mini-bar, adjustable ambient lighting, and its own vanity table, mirror, wardrobe, and privacy divider for central suites. And if you want to stretch out and sleep, the crew will convert your seat to a fully flat bed with a mattress, so you can arrive at your destination totally refreshed. First Class private suites are available on all Emirates Airbus A380 and A340-500 aircraft, and most Boeing 777 aircraft. First Class cabins on other aircraft offer flat bed seats or deeply reclining comfort.
Rating the Best First Class Flights
How does Skytrax decide which airline has the best first class? This coveted distinction is assessed based on standards of first class staff service, who has the best first class cabins, and airport environments, and is meant to reflect the typical experience of a first class passenger with that airline. Whichever company you choose to fly with in first class, you can't go wrong with the Skytrax Top 10 Best First Class Airlines.
Looking for first class flight deals you won't find anywhere else online? Lucky you! You have arrived at your destination. Book your tickets with Wholesale Flights today and we promise to find you the best first class deals out there. We can save you up to 30-70% off all the best first class airlines. Just contact us and get ready for an amazing journey!