Are you considering flying first class, but you're just not sure if it's worth it?
There are so many rumors and misconceptions about flying first class that unfortunately, many would-be luxury travelers end up passing up the opportunity to experience the first class flying experience due to these misconceptions. You might get caught up in the notion that flying first class is too expensive and that the difference between first class and economy is negligible, but this is simply not true! Savvy travelers know that these superb airplane tickets are an absolute must to ensure the most enjoyable flight ever.
First Class Perks: What You Get For Flying First Class

Blogger and experienced luxury traveler Heather Walrath can't say enough about all the amazing first class  perks that she has encountered. Even before you step onto the airplane, the first class ticket experience in the airport itself is dramatically better:
"Baggage fees are a major hassle and always one of the biggest money drains when flying. When enjoying the perks of flying first class, however, a certain number of checked bags will usually be allowed free of charge, depending upon the specific policies put in place by your airline. When I flew first class to the West Coast for my wedding, for example, I was easily able to check a bag and also carry my gown onto the plane, where it was conveniently stored in the first class closet, helping me relax and avoid worrying.
How many times have you arrived at the airport later than expected and felt your heart jump into your throat after catching sight of a long line at the security checkpoint? Having experienced this several times myself, I've loved being able to get into the much shorter priority line when flying first class. Along with reducing stress, getting through security faster means you'll have plenty of time to find your gate and grab a snack. In addition to priority access at the security checkpoint, first class passengers are also among the first to board a plane, allowing them to settle in and enjoy a glass of water or juice while awaiting takeoff."
Flying First Class Flights: Unparalleled Comfort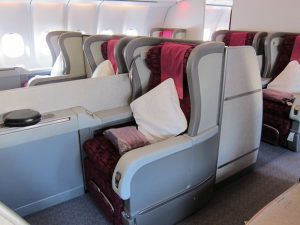 At the top of any list of perks for flying first class is, of course, the incomparable comfort on-board the plane. Travelers in first class never have to worry about there being enough space for their luggage in the overhead bins. On top of that, they are treated to world-class meals and beverages and are attended by friendly, thoughtful staff. Perhaps most importantly – especially for long overseas flights – you get the best of the best in first class seats. These seats actually recline fully into beds so flyers can catch up on some shut-eye and not have to deal with jet lag. A true first class perk!
As Ms. Walrath puts it:
"Along with being spacious, first class seats offer especially comfortable headrests and plenty of extra space to accommodate drinks, books, laptops and more, thanks to large armrests and tray tables. As someone who often has trouble sleeping during flights, I've definitely appreciated the opportunity to curl up in my first class seat and recline a bit more than would typically be possible."
Enjoy Flying First Class and Your First Class Perks

Flying first class is one of life's ultimate pleasures. Simply put, nothing really tops the first class flight experience. Join the elite ranks of travelers who have made the smart decision to take advantage of all of the first class perks you get with your flight class flight ticket. You are sure to agree that flying has never been more pleasurable than flying first class.
If you're looking for cheap first class flights, we can definitely accommodate you! It's absolutely possible to save between 30-70% off your tickets because we know every trick in the book to make it happen. Just contact us and ask how to get cheap first class fights and we'll do the rest! Flying first class has never been easier! Or cheaper!