If you've ever flown to Europe, you're aware of the fact that the flights can be long and arduous. Taking a short flight is a breeze, but when you're stuck up in the air for a number of hours, it's nice to feel as comfortable as possible. Taking first class flights to Europe is a surefire way to achieve that. On first class, you'll be pampered with attentive service, as you make your way across the pond.
First Class Flights to Europe: The Only Way To Fly
It isn't just the in-flight service during first class flights to Europe that makes flying first class a joy. The benefits are apparent the minute you get to the airport. Everything will move faster as a first class passenger, you'll have access to exclusive first class lounges before your flight to relax in,all of which  takes the stress off of your shoulders, and will make your trip to Europe a pleasurable one. Some of the ways you'll save time are outlined by a travel blogger in the following excerpt:
If long security lines and crowds of hovering passengers at the gate drive you bonkers, first class will be a welcome reprieve from some of the stress and indignity of air travel. Checking in will be faster, and at some airports, first-class passengers can speed through priority screening lanes. You may get access to the airport lounge, and you'll also get on the plane faster so you can stow your carry-on and settle in to enjoy that complimentary drink. Extra services like priority baggage delivery get you out of the airport and to your final destination faster, too.
As you can see, having time to relax and enjoy the process of traveling, is just one of the many reasons to take first class flights to Europe. Life is too short to be scrambling around the airport in a huff. First class is worth every penny, and you deserve to fly in style once in a while!
When Is the Best Time To Book First Class Flights To Europe?
If you're considering booking a first class flight to Europe, you're going to want to get your timing just right. By booking your first class tickets early, you can save a lot of money. Don't wait until the last minute; the prices will be exponentially higher. As you can see in this helpful infographic, the perfect time to book a flight to Europe is 120 days before your desired departure date.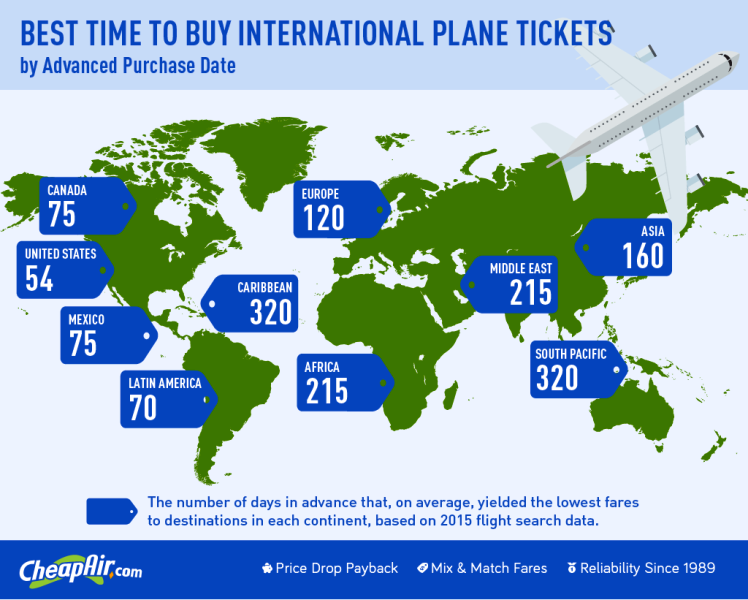 Those extra months of planning your flight can make all the difference. Don't procrastinate; or you won't find the cheapest first class flights to Europe that you can. We'd hate for you to look for a flight a few weeks before you leave, and feel your heart drop when you see the price. This is one time when it definitely pays to be a planner.
Whether you're going to Europe for travel or business, you're going to have a great time. Every country on the continent has its own unique story to tell. You won't believe the majestic beauty that you'll be fortunate enough to see. We hope you choose to fly first class to Europe, because it really makes a big difference. We want you to enjoy every part of your trip, not just the part when you land. If you're not finding cheap first class flights to Europe despite your best efforts, no problem! Just contact Wholesale Flights! We'll find you the best first class flight to Europe at the best price because we have access to deals no one else does! After flying first class to Europe, you'll wonder if you can ever go back to economy. Safe travels, and have a great time in beautiful Europe!