New York to London is one of the busiest airplane routes in the world. Being two of the major economic and cultural hubs in the Western world, it makes sense that there's so much travel between these cities. All of this would explain the growing popularity of New York to London business class flights. We'll go over who has the best international business class to London, how to book your business class flight, and how to find discounts on business class flights to London. Let's get started!
How to Book New York to London Business Class Flights?
If you're flying out of New York, looking for cheap business class tickets to London, there's a lot you can do to help your situation. By following a few guidelines, like sticking to the best time to book business class flights and setting fare alerts for discount business class tickets, you can increase your chances substantially of finding cheap business class to London. But what are these flights actually like? How does New York to London business class compare to other routes?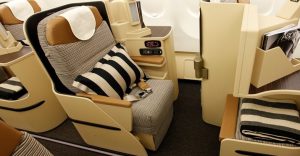 When looking for cheap business class tickets to London, American Airlines is worth looking at. One of the big benefits of flying business class is the seating in your business class cabin. Lack of comfort is one of the most common complaints made by economy class travelers. Nobody will have that gripe when flying on American's sterling business class. That's what one travel blogger found out, on their flight:
I found the business class seat quite comfortable, with supportive, but soft padding. The seat position controls were easy to understand and operate, and the seat angle and shell made it feel very private.

In addition to two overhead lights which can be cycled on/off in 4 combinations, there is a small directional reading light above the seat controls on the side console. There is also a nightlight in the lower storage compartment. 
When you're sitting for 5 or 6 hours straight, it's important to have a comfortable seat. On American Airlines business class you won't be disappointed. Comfort and luxury is what flying business class is all about!
Another airline to look at for cheap business class to London is British Airways. On top of the inflight experience being second to none, British Airways has a top-notch lounge in JFK airport. Having a place to rest up, before or after a flight can be invaluable. Traveling is tiring, and sometimes the busy surroundings of an airport can drain even more energy from you. An excited blogger writes about his experience in the business class lounge in the following snippet:
Before I get onto the main event (the flight itself), I'd also like to quickly nip ahead in time, and talk about the lounge in New York too – which I experienced on my return flight. After checking in at JFK Airport we breezed through priority security and into the Club Lounge; the size was equally impressive as the one at Gatwick. Inside there was plenty of seating space, TV screens, a buffet, standalone bar and even a separate dining room. As our return journey was an overnight flight, here I filled up on pasta freshly cooked to my liking, prior to boarding the plane.
An airport isn't the kind of place you'd usually expect to get pasta cooked exactly to your liking. That just goes to show what a pleasant time you can have in the British Airways business class lounge. A person can really get used to all the perks that come with business class flights! And you should! It's good to relax and enjoy the business class flying experience, from airport to airport!
New York and London are both world-class cities. Why not take a world-class business class flight between them? And if you're looking for cheap New York To London business class tickets, you're in exactly the right place! Just click the link below and see what amazing discounted business class airfares await! Happy travels and chip chip cheerio!