Anyone who's been to Paris knows that there are no limits to its appeal. As enchanting as any city on Earth, France's capital is as unique as it is pleasurable to visit. If only getting there could be just as pleasurable. Flying overseas is an ordeal for a lot of people. The flight time is long, making comfort, or lack thereof, a major issue. Luckily La Compagnie Airlines is excelling at offering business class flights to Paris at an incredible price. La Compagnie business class to Paris is changing the game before our very eyes. Here's our La Compagnie review.
What Makes A Good Business Class Airline?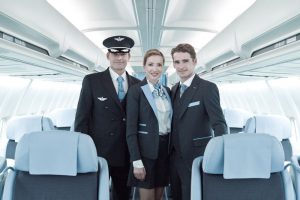 Are you wondering which airline has the best business class to Paris? There are a few good answers to this question, but first let's focus on what makes a good business class airline in general. A good business class airline is concerned with every stage of your voyage. It's not enough to simply cater to your inflight needs, you must be made to feel taken care of before and after as well.
La Compagnie business class to Paris has nailed this aspect of the travel experience. The pre-flight perks are top notch, as they can attest to over at The Points Guy:
Checking in at Newark was seamless, with only one person in front of me in line. However, since there's no TSA PreCheck available with La Compagnie, and Newark's TSA is notoriously slow, I'd still recommend allowing extra time for security.

I visited the Priority Pass lounge before security and felt that it was nicer than most airline lounges. It featured a chic design and offered salmon, penne pesto pasta and a full bar.
It's amazing how much stress can be lifted from your shoulders by something like a terrific business class lounge. Make no mistake; the psychological aspect of traveling is an important one. If you arrive at the airport and are immediately confronted with a chaotic scene, you're starting off on the wrong foot. It's immensely preferable to enjoy the serenity of one of these sterling lounges, truly one of the best perks of flying business class.
Benefits of a La Compagnie Business Class Flight to Paris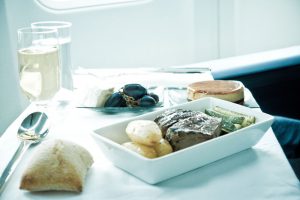 Now that we've spoken of the pre-flight experience, let's get to the main event – the flight itself. Being a relatively small, boutique airline, many people haven't heard of La Compagnie. Don't let that make you think it's any lesser than other airlines. The quality of meals served is always a good benchmark for a luxury airline and one of the main attractions of flying La Compagnie to Paris. Jacquelyn Smith of Business Insider tells us about her dining experience on a recent La Compagnie flight:
On our red-eye from Newark to London, we had been served dinner after take-off (fig quiche and goat cheese tart, with potato and bacon soup and dessert), and breakfast (eggs, french toast, and croissants) before landing.

Normally one to be wary of airplane food, I thoroughly enjoyed every meal.
When someone tells you they're usually suspicious of airline food, but that they thoroughly enjoyed a specific airline's cuisine, that's a ringing endorsement. And as you can see, the business class food options offered by La Compagnie sound truly wonderful!  Being served fig quiche with a goat cheese tart is the kind of decadence you'd expect once you get to Paris, not on the flight on the way there. This is just another way that flying business class to Paris helps your vacation start the moment you enter the airport!
All in all, La Compagnie business class to Paris is an exceptional product at a very affordable price. Gone are the days of having to fork over an arm and a leg for business class airfare. Today is totally possible to find cheap business class tickets to Paris on airlines such as La Compagnie where you will get a luxury experience that you will remember for the rest of your life at a price that is affordabe. If that's not great news, we don't know what is. Bon voyage!