There are few cities on the planet more beautiful than Paris. France's illustrious capital is the epicenter of art and culture. Whether you're an art historian or merely a curious traveler, the sights and sounds of this major metropolis are absolutely breathtaking. Everyone should see Paris in one's lifetime. And if you have the chance, you should fly in style and fly business class to get there. If Paris is in your future, and you're looking at flights, you may be wondering which airline has the best business class to Paris.
Which Airlines Fly Business Class to Paris?
To begin to answer that question, first we'll look at which airlines fly to Paris, and at what frequency. Being able to choose a time of departure that fits your busy schedule can be a deciding factor in selecting a flight. That's why an airline that makes the route several times a day can be more convenient than one that doesn't. The following infographic shows the frequency of flights from New York to Paris.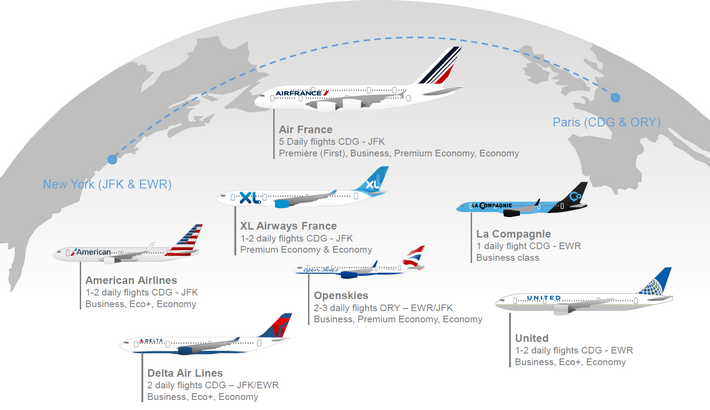 Air France has the edge here, flying the New York-Paris route 5 times per day. With that many more departure options, you'll likely be able to find a departure that makes sense for you. Many of us have made the mistake of booking a flight at an inconvenient hour, telling ourselves it'll be okay once the time comes, but once it does, we're filled with regret.
Benefits of Flying Air France's Business Class
Luckily scheduling isn't the only reason that Air France has the best business class to Paris. The airline itself is tremendous. The French have a reputation for enjoying the finer things in life, and their national airline makes no exception. The inflight business class meals are a great example of this. When we think of fine dining, we think of France. Having some of the most renowned restaurants in the world, France and its cuisine are forever intertwined. That's why on Air France, they take food seriously, as one travel blogger explains:
Air France offers meals by Michelin-starred chefs on trips departing from Paris. Mine were inspired by Thierry Desseauve, with help from sommelier Paolo Basso. On flights departing from the US and Canada that are heading to France, you'll be served meals designed by celebrity chef Daniel Boulud.
Air France's commitment to creating a luxurious business class flying experience for their passengers is evidenced by their effort to provide meals engineered by Michelin-starred chefs. You'll be able to feel this same commitment throughout your flight, in every aspect of the service.
There's an old French phrase that we often use in English: je ne sais quoi. It's what we say when we feel a special something that we can't quite describe. And it's an apt description of taking a business class flight to Paris on Air France. You'll know that the food is wonderful, the seats are comfortable and the service is excellent, but beyond that you'll feel an extra bit of magic, that certain je ne sais quoi. Bon voyage!