There's no better city to take your significant other than Paris. There's a reason they call it the city of love. Paris is one of the most romantic destinations in the world. Whether you're sipping a fine red wine, or climbing the Eiffel Tower, this magical city will leave you wanting to come back again and again. If you really want to woo your partner, you'll want to look into all the amazing reasons why flying business class flights to Paris will make your trip so much more enjoyable than booking a run of the mill economy flight. When traveling to such an elegant destination, it only makes sense to make the flight over just as elegant.
How to Get Cheap Business Class Flights to Paris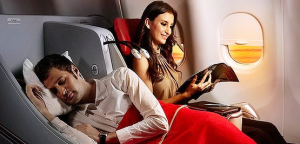 First off, if you're planning a romantic get away or the vacation of a life time, let's be frank — all business class flights to Paris will be worth the money when compared to cheaper alternatives. But that's not to say you need to spend a ton on your flight, even for the best business class to Paris there are, you can still find ways to save and find cheap business class flights to Paris. In fact, you may be able to score that amazing business class experience by getting upgraded at little to no cost. If you're patient and willing to take a risk, you may luck out and find that your economy class flight is full and be offered a chance to move up into business class for a discounted fare. A blogger spells it out for you in the following excerpt:
Airlines don't throw around upgrades to anyone and everyone who will take them. Upgrades, especially free ones, are a rare occurrence. I have now flown business class a few times and despite the plane being at high occupancy, there have always been oodles of available seats in business class. Put simply, airlines won't upgrade unless they have to. On my lucky day the economy class was full and I had received the email in my inbox some days earlier as a chance to upgrade and for the airline to make a little extra cash.
As explained above, an airline being overbooked can be a win-win situation. You get to upgrade to a luxurious business class seat, and the airline can make an extra bit of money by offering you a discount to upgrade your ticket. When you're cruising to Paris with a glass of champagne in your hand, you won't mind having paid a bit more to upgrade to the luxury and comfort of business class.
Using Frequent Flyer Miles for Business Class Flights to Paris
There are also those who choose to travel to Paris alone. Traveling alone is a great way to get to know yourself. Many young people have taken solo trips, just out of college. If you're heading to Europe on your own, a good way to score business class flights to Paris is by signing up for a frequent flyer program. This wise travel blogger explains:
Join the frequent flyer program of your favourite airline/s. Airlines tend to look more favourably towards their frequent flyer program members when upgrading passengers at the check-in counter. It also helps if you are flying solo – it is highly unlikely you'll get upgraded to business class if you're travelling as a couple or family.
Showing your loyalty to one airline can really pay off. Companies want to make sure that you're happy and eager to keep using their services. That's why by sticking to one airline, you just might end up getting an upgrade to business class as a thank you.
Flying to Paris in business class is a luxury that few will ever forget. It really is the experience of a lifetime. But, the one thing that makes business class flights to Paris even more enjoyable is knowing that you saved money on your tickets by finding cheap ways to upgrade. With so much to see in one of the great cities of the world, business class is truly the only way to fly. When you land, you'll know that you can enjoy Paris to the fullest because you'll be relaxed and invigorated by the trip over. Have a great trip and enjoy all the beauty that the city of love has to offer!