Imagine lavish treatment, above-and-beyond services, the best first class cuisine, on-board privacy and room to stretch out during a long-haul transoceanic flight. Does that sound too good to be true? You may think that you can't afford first class flights to Europe, but you would be wrong. There are in fact many ways you can achieve the dream of finding cheap first class flights!
How to Find Cheap First Class Flights to Europe
The first and most important thing to do is to seek out assistance from a reputable agency that possesses expertise in obtaining cheap first class flights to Europe. Because these companies have exclusive access to first class flight databases, they can get the absolute cheapest first class flights available, lower prices than the average air traveler could ever get from even the best online airline ticket sites on their own. You will absolutely love the convenience, efficiency, and most importantly, the money that you will save buying your first class plane tickets this way!
How to Upgrade to First Class
Travel rewards programs are also a great way to get cheap first class flights to Europe. Ben Schlapping, of the One Mile at a Time blog, who has traveled over five million miles in the last ten years, is a large proponent of travel rewards programs. He offers some deep insights into the matter, and why it's worth signing up for points programs:
We offer our loyalty and consistent patronage to a business, and in exchange they reward us with better prices, discounts, special offers, and other things that make us feel like a valued customer. And when we feel valued, we're incentivized to spend more with that company, continuing the cycle.
That's the point of loyalty programs in general, and the airline industry is no different. For the airlines, at least in the US, their ideal customer is the business traveler. They know that companies are willing to spend more on tickets in order to have flexibility, but they've also learned that individual travelers can be encouraged to stay loyal to a single airline if they're provided with the right incentives. They might even be willing to spend more on a ticket in order to fly with the airline they perceive to offer the best benefits.
Using Points for Cheap First Class Flights to Europe
So, travelers can reap big rewards by signing up for points programs – and the more points programs the better – which is actually mutually beneficial to both the traveler, who gets access to cheap first class flights to Europe, and the airline, which is guaranteed a customer! Schlapping continues: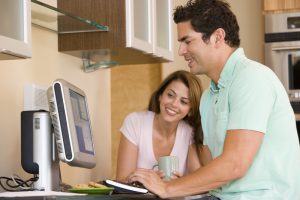 Nowadays you can earn miles for almost anything, from spending money on a credit card, to joining a mileage dining program, to getting a hair loss consultation or car insurance quote, to taking out a mortgage. There's not a single transaction I make where I don't think about the potential implications for earning miles. There are literally trillions of unredeemed airline miles, and while they ultimately become a liability on the airline accounts, the day-to-day cost is negligible. After all, around 85% of travelers redeem their miles for domestic economy tickets, which aren't that expensive for the airline to begin with. Furthermore, the economic realities in the United States, especially, have created a landscape where airlines and financial institutions have partnered in a way that can be obscenely lucrative for the savvy consumer.
So, what are you waiting for? Go out there and get onto those points programs as soon as possible, and start racking up those rewards! You'll be sitting in the lap of luxury on cheap first class flights to Europe in no time!