There are a million places to read about the beauty of Rome. As one of the most romantic cities on the planet, there's no shortage of writers and poets who will regale you with the virtues of this absolutely magnificent world capital. And none of them are wrong. Rome is breathtaking. From corner to corner, it's a feast for the senses.
If you've ever flown business class, you probably feel almost as adoring of it as you would a great city. Taking in the luxury that these airlines strive for is a rare treat when traveling by air. So if we take these two wonderful things, Rome, and business class flights, what do we get? Business class flights to Rome, of course. Let's take a deeper look into that.
Business Class Flights to Rome with Alitalia
When it comes to business class flights to Rome, there's one name that always comes up, Alitalia. Based in Italy. Alitalia truly is one of the best business class flights to Rome you can fly on. Their exquisite in flight meals include some of the most delicious pastas you'll have anywhere on the globe. They just happen to be on an airplane. Matthew from Boarding Area shares with us his first impressions of Alitalia in the following snippet:
Alitalia has a large business class on its 777-200, with 46 staggered seats spread over two cabins. I assigned a window seat on the starboard side since that typically provides great views of downtown LA upon arrival. The cabin was very clean and while the black and gold colors would not have been my first choice, the cabin was attractive.
Personal preference of colors aside, this blogger hits on an important aspect of flying business class, overall ambiance. Sitting in an attractive business class cabin is soothing for our senses. Travel is known to fray the nerves of many, so comfort is an important factor on any flight. And might we add, we respectfully disagree with Matthew about the black and gold!
Dining on Alitalia Business Class Flights to Rome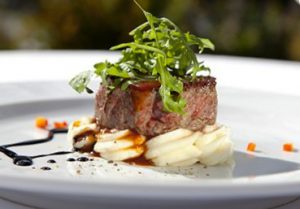 As we mentioned earlier, Alitalia has great food options, and it's not all pasta. You'll have your choice of many cuisines aboard this luxurious airliner. One impressed blogger from One Mile at a Time describes their meal experience on Alitalia:
Alitalia gets huge props for their meal service. All the service was done by trolley, whereby you could see the choices and then decide what you want, with everything being plated at your seat. That's similar to what Austrian and Turkish do, though they have DO & CO catering. I wish more airlines would do meal services like that.

I decided to try all the appetizers, which included steamed renette sliced apples with radish, pullet cake with sweet and sour pickled vegetables, and a spinach and herb omelet. All were really great.
It's easy to gather that this isn't your typical run-of-the-mill airplane food. No, world-class chefs have expertly designed this food. Alitalia's business class flights to Rome do not cut corners with the food, or anything else.
You may have taken hundreds of flights in your life, each more ordinary than the last. But there's nothing ordinary about flying business class to Rome on Alitalia. You'll start your trip to Rome off right and if you want to make the experience even more memorable, book your tickets with us for the cheapest business class flights to Rome you can find anywhere! We want you to know what special feels like. Happy travels!