The city of Rome is an absolute stunner. Incredible ancient history meets sophisticated culture in this world-class capital. And if you thought you'd tried truly great pasta and pizza, you may find that all that came before pales in comparison to the real deal.
On the down side, the flight to Italy isn't exactly quick. With flights from the U.S. starting at around 8 hours, the trip over can be a slog. The easy solution to this problem is to fly business class. On business class flights you'll be so comfortable and content that you won't notice the time going by. All this begs the question, which airlines offer the best business class flights to Rome?
Alitalia's Business Class to Rome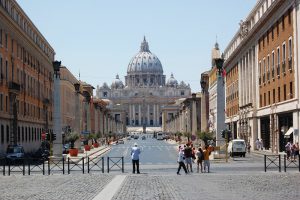 First on our list is Alitalia. Of all the airlines that fly business class to Rome, Alitalia stands out for its comfortable and private seating arrangements. To give us a better idea of the layout, here's the breakdown from a travel blogger whom recently flew with Alitalia:
Alitalia operates two types of long-haul aircraft, the Airbus A330-200 and Boeing 777-200ER, which is what I picked for my flight to Rome. Seats on both planes are arranged in a staggered 1-2-1 configuration, with just 20 seats in one cabin on the A330 and 30 seats on the 777, with 20 in the front and another 10 in a mini-cabin just behind.
With cabins housing only 20 and 30 seats, respectively, you can rest assured that in these business class seats you'll have plenty of space to stretch out. You certainly won't be packed in like sardines. On Alitalia, it's never been easier to lean back and watch a movie or fall asleep. When you wake up, you'll be that much closer to gazing at the Trevi Fountain.
Flying United Airlines' Business Class to Rome
Next on our list is United Airlines. United's Polaris Business Class to Rome offers one of the best business class travel experiences. Employing such amenities as bedding from Saks on these flights, United have gone the extra mile when it comes to comfort and class. If you crave an inflight drink, don't sleep on their excellent selection of wines.
Business Class Flights to Rome with KLM
Last but not least on our list of the best business class flights to Rome is KLM. You may not associate this Dutch airline with Italy, but that doesn't mean you won't fly in style. An impressed blogger describes just what makes KLM special in the following excerpt:
What set this KLM flight apart to me was the seat, which was extremely comfortable and provided me with one of the best sleeps I've ever had on a plane (until it was truncated by breakfast service).  When transformed to a fully flat bed, it was long and very wide.  I appreciated that the cabin felt spacious and airy, and overall I'd say that with a few minor exceptions (middling IFE selection, lack of USB port) KLM's new World Business Class hard product is exceptional.
When it comes to flying business class to Rome, you can't go wrong with any of these options. Whether it's the seat, the food, or the service you're attracted to, all 3 of these airlines have you covered.
Rome is one of the most stylish cities on the planet, there's no reason you shouldn't arrive in style. Ciao!