Anyone who has ever experienced it always says the same thing: Once you travel the best long haul business class flights, you'll never want to go back to economy. After all, who in their right mind would choose to sit in a tiny, cramped seat, as harried stewardesses rush by trying to serve everyone in the economy cabin as quickly as possible amidst the cacophony of howling babies and disgruntled passengers. Who could pass up a fully flat-lying business class seat on an overnight flight, en lieu of the neck cramps, sore backs, and sleep deprivation common to everyone in the back of the plane. This is why it's important that you take the time to find the best long haul business class flight that you can. After you land from such a long flight, you'll be thanking yourself!
How to Find the Best Long Haul Business Class
It's true, the best long haul business class flights come at an extra cost, but it's also true that it's worth every penny when you arrive at your destination feeling well rested and energized, so you can make the most of your trip. Whether you're traveling for business or for pleasure, the benefit of flying in the best business class seats you can purchase is absolutely worth it.
So, let's say you're planning a dream vacation abroad, maybe it's your first time flying business class, and you're worried about splurging on business class tickets with an airline you've never flown with before. Consumers are in luck, because the independent airline survey company Skytrax releases an annual list of the top-rated business class airlines. Currently, the number one all-round business class flight is offered by Qatar Airways. Travel blogger Gary Leff, of View From The Wing, who is a highly seasoned flyer, elaborates on why Qatar Airways is so great:
Right now the very best business class in the world may be Qatar's, at least on their newest aircraft. The B/E Aerospace Super Diamond seat (which American has on its Boeing 787-9s but without privacy dividers for the middle seats) is certainly one of the very best in the world, and combined with Qatar's soft product — they have served dessert from Laduree the Paris institution — their offering is already hard to beat.
Who Has the Best Long Haul Business Class?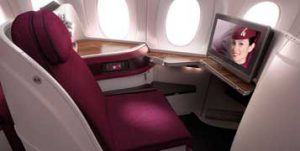 As Mr. Leff mentions, Qatar Airways is on the forefront of design and cabin technology, time and time again coming out with innovations that push the boundaries of the best business class cabins available. Since the airline industry is so competitive, flight companies are constantly improving their services and offering increasingly luxurious cabins, business class lounges, catering, and more. However, according to Andy from Andy's Travel Blog, who has traveled in business class with Qatar Airways several times over, this airline is currently one step ahead of the rest!
The Q Suite is an amazing concept that will put immense pressure on Qatar's rivals. Qatar Airways group chairman, His Excellency Mr. Akbar al Baker, was sure to point out that they had indeed patented this seat design to "make it harder for our competitors to copy us when we change the game". And change the game they did. From double beds to fully enclosed suites, the Q Suite takes cues from what other airlines are doing in First Class and brings them to Business Class.
The best way to move forward with booking your flights is to work with an experienced and reputed agency that specializes in luxury travel. Agencies such as these will be able to find the best long haul business class seats for you for the best going rate possible. Since these agencies are granted special access to flight databases unavailable to the public, and sometimes even make special deals with airlines, you'll be sure to find the cheapest business class tickets on long haul flights on the best international business class airlines.  You won't be able to find premium tickets at such amazingly low prices anywhere else!