Whether you're making your way to France or the Czech Republic, you'll never be disappointed when traveling to Europe. From the amazing architecture, to the lively nightlife scenes, there's so much to do on the European continent. You're going to enjoy your trip no matter what, but you may enjoy it even more if you don't fly economy. Arriving at your destination after a long, cramped flight is no fun. That's why we're here to tell you about the best business class flights to Europe. Today there are more options than ever to fly business class to Europe. It can be very confusing trying to figure out which airline is the best business class to Europe, so we'll help you figure it out.
Who Provides the Best Business Class Flights to Europe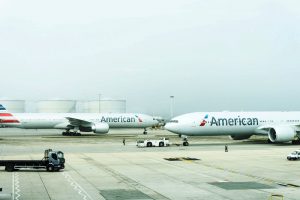 First let's start with an airline we all know well, American Airlines. Many of you have probably flown American's economy flights, but not everyone is aware of their business class flights to Europe. Though not as fancy as some of the international airlines, as far as airlines based in the United States goes, American offers some of the best business class seats flying to Europe. As this travel blogger points out in the following excerpt, it's hard to go wrong with American's business class:
It is pretty fashionable to complain about American carriers, especially about the service they deliver onboard, which – there is no denying it – is inferior to that of their non-American competitors. But the exception to the rule must be the "new" American Airlines, which introduced a very impressive new Business Class product two years ago, with fully flat, cocoon seats that offer more comfort than ever before. Thanks to the herringbone layout in a 1-2-1 alignment, all Business Class seats have direct aisle access (no jumping over people's feet here) and a significant amount of privacy. The cabin layout and seat concept, which was copied from Cathay Pacific, can also be found on other airlines, including EVA Air and Air France. Whilst American isn't an airline to fly to get the best dining experience, you'll never have a terrible meal and I love their ice-cream dessert as well as the stylish and well stocked walk-up bar.
It's nice to know that airlines are always thinking of new ways to improve their business class flights. Something as seemingly simple as a seating layout can make all the difference to your travel experience. Having room to stretch your legs, recline your seat, and relax is never more important than on a long haul flight. That's why it's important to do a little research and figure out which airline has the best business class seats for your trip to Europe. It's a long flight, you'll be happy you took the time to figure out which airline had the best seating ahead of time!
What To Look For in the Best Business Class Flights to Europe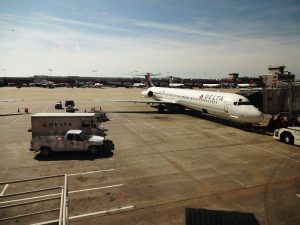 Business class cabins have come a long way and today offer some of the best features you'll find in any airline product. There's so much built in to the business class experience these days you might not even be aware of all the fantastic features airlines have on offer to you. In fact, some of the most innovative layouts and designs in airlines today can be found on long haul business class flights. While we're talking about innovation, we have to talk about Delta Airlines' business class flights. If privacy and alone time are paramount to you, you're going to love these long haul business class cabins. They are truly designed to maximize the comfort and luxury of the business class traveler, and you'll never be more thankful for these business class comforts than when flying across the ocean to Europe. An impressed blogger paints a picture for you in the following excerpt:
One of the most exciting new offerings is Delta Airlines' Delta One business class cabins. These cabins consist entirely of business class suites. Delta is the first airline in the world to offer this level of privacy in a business class cabin. A sliding pocket door gives travelers entry into their own private in-air oasis. Seats recline to a full-flat position, extending to 81 inches to accommodate patrons of all heights. The all-suite cabins also feature high-resolution entertainment screens, ample electric power sources and five-course meals. 
What could be better than having your own door to close on an airplane? These business class suites offer top notch amenities, privacy, fully reclining seats, a delicious business class meal and truly attentive service, making Delta One business class cabins on of the best business class flights to Europe available, hands down. Just imagine the bliss you'll feel when you close that privacy door and drift off to sleep!
We hope you have a great trip to Europe. You're sure to see sights that will stick in your mind for the rest of your life. When you do go across the ocean, hopefully it's on one of the best business class flights.
Bon voyage!