If you're planning a business trip to Frankfurt, getting ready for a vacation in Paris, or heading to another destination in Europe, is flying business class the way to go?
The short answer is: Yes!
People choose to fly business class to Europe because it makes a world of difference in the enjoyment of the travel experience, especially on longer flights. Premium tickets provide a wealth of superior amenities and services, including access to airport lounges, exceptional cuisine and beverages, exemplary customer care, and supreme comfort aboard the plane.
Superior Service Before You Board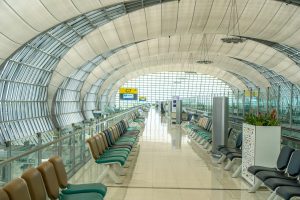 There's nothing more stressful than arriving at the airport to find a massive lineup of people at the check-in counter, while looking at your watch wondering if you'll get through in time to catch your flight. Flying business class to Europe alleviates this concern completely, as you will be treated to a priority lane, which will allow you to speed through the check-in process and security clearance.
And how about the lounges? One of the many wonderful aspects of flying business class is gaining access to the relaxing atmosphere of exclusive lounges at the airport. Forget about wasting your time wandering around aimlessly, or sitting in a crowded space beside screaming children. As soon as you enter a business class lounge, you will feel completely relaxed. Treat yourself to top quality food and beverages, while sitting in comfortable furniture in a quiet environment.
Want to get some work done? No problem! Lounges feature fully-equipped work spaces with everything that you need to be highly productive either before or after your flight. You can even indulge in extravagant spa services to fully rejuvenate, or simply sit back and watch a movie while you wait for your flight to depart.
Who Knew The Seats Could Be So Comfortable?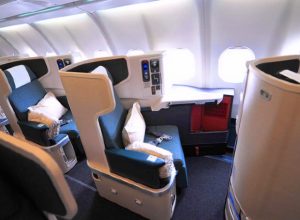 Many people think that a long flight is synonymous with an uncomfortable and exhausting experience, but this definitely doesn't have to be the case. One of the many perks of flying business class is the luxurious seat that's provided. Imagine not only being able to be extremely comfortable while sitting, but also being able to recline your seat into a fully-flat bed to get some much needed rest during the flight. Plus, business class travelers have desk space for getting work done, as well as plenty of room for all of their personal belongings aboard the flight.
Wow, The Food!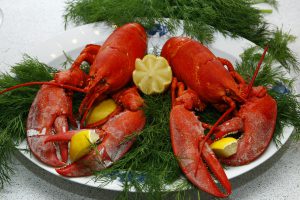 Okay, one of the other reasons people are flying business class to Europe is the amazing food. Let your horror stories about disgusting airline food become a distant memory as you indulge in a three-course dinner during your flight, including luxurious offerings such as lobster, filet mignon, caviar, and specialty dishes. Want some top shelf scotch? All you have to do is ask! There's nothing that makes a flight more enjoyable than endlessly flowing champagne, five-star cuisine, and exceptional customer service throughout.
Luxury Not to Be Missed
We bet you now understand why people are flying business class to Europe, and you're probably getting ready to book your own tickets too!
Becky Yerak, a seasoned business reporter for the Chicago Tribune, describes the incredible level of luxury that is available for international business class travelers on United Airlines:
United said the Polaris seat, which was designed specifically for the airline, will recline flat and offer up to 6 feet 6 inches of bed space. The seats will be in "suite-like pods" that will include a "Do Not Disturb" sign, bedding from Saks Fifth Avenue, mood lighting, one-touch lumbar support, several storage areas, multiple surfaces for simultaneous working and dining, and a 16-inch high-definition entertainment screen.
Slippers will be available on all flights, and customized pajamas will be available by request on flights longer than 12 hours. Travelers also will be able to request a gel-cooled pillow, and new amenity kits will feature eye shades and lavender pillow mist.