If you've ever been to Europe, you know the wonders of that magnificent continent. Climbing up the Eiffel Tower is romantic and invigorating. Exploring the ruins of Athens is an eye opening experience. Cross-country skiing in Finland is an off the beaten track adventure you'll never forget. And that's just the tip of the iceberg.
It's hard to imagine improving upon these incredible life moments, but there is a way to improve them vastly. I'll save you the suspense; it's by flying first class to Europe. There's nothing quite like flying first class. Soaring through the skies at 35,000 feet with your legs up and a glass of champagne in hand is the epitome of luxury. Everyone should do it once, and once you do, you're likely to do it again and again.
Check Flying First Class to Europe Off Your Bucket List!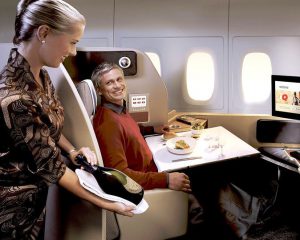 You don't have to wait your whole life to fly first class to Europe. You can do it now and you should! The benefits of flying first class to Europe don't begin and end with the flight. There's a whole world of private first class lounges that the average traveler has never had the privilege of setting foot in. An impressed traveler over at the Pilot Patrick blog tells us about one such lounge:
During my short layover in Munich, I visited a First Class Lounge for the very first time. The lounge was located in the new Terminal 2 satellite building and is better than any private jet lounge I have been to. Besides a huge buffet, you could also choose from a la carte menu. While enjoying a refreshment you could watch the air traffic on the apron from cozy seating areas inside and from a terrasse outside. All kinds of facilities are provided for a demanding passenger.
What a beautiful picture this blogger paints. You can almost share in their contentedness just from reading about it. Having high quality food and drink options is reason enough for flying first class to Europe. Even if you're not flying the best first class to Europe, the second, third and fourth best first class flights are sure to provide you with an experience you'll not soon forget!
Superior Service on First Class Flights to Europe
Luckily, the excellent food and drink doesn't end upon boarding your flight. While up in the air, your every need will be taken care of. Amazing service is the name of the game when you're flying first class. Sidonie Sawyer of Huffington Post recounts some extraordinary service she was offered on an American Airlines first class flight to Paris in the following excerpt:
Before the plane even took off, I was asked what I wanted to drink, and when I said just water with a lemon twist, that is the drink that was served to me for the entire flight, refills after refills without having to ask for it. The lemon slice made it each time too. Some service.

My vegan meal even made it too! I had requested one for my original flight, and the order followed me into the upper class. A huge green salad was fresh and absolutely not wilted. The food was served in china with silverware and a linen napkin, on a white tablecloth.
Like they always say, it's the little things that count. Asking for a lemon slice, and then getting it every time without asking is the kind of thing that really makes you feel taken care of. Ask for an extra pillow, not a problem. Want to recline back in your seat? Most first class seats recline fully! You can actually sleep laying down! And how about a nice amenity kit full of special extras like designer pajamas, complimentary toiletries, and other items to make flying more comfortable? These are just a handful of the perks that will make your flight to Europe an experience to remember.
Many of us take pride in not needing any special treatment. Stick us in a seat on an airplane, and we'll be fine. And while that may be true, you deserve to be treated like royalty every once and a while. That's why everyone should fly first class to Europe at least once. Don't worry about how much it will cost. Believe us when we say you can afford it! We will help you fly the best first class to Europe at the cheapest price! Finding you discount first class flights to Europe is our job and we love it! So pack your bags and get ready for one of the best experiences of your life!