Of all the cities in Europe, Amsterdam is one that stands out. The sight of its incredible slanted buildings hovering over intricate canals is breathtaking. World-class cafes and restaurants are seemingly everywhere as you walk the streets of this stunning city.
Forever we've known Holland as the land of the tulip and the wooden shoe, but there's so much more to this country. And it all starts in Amsterdam. If you long to see this Dutch hotspot, and you're a person who likes to fly in style, you're probably wondering who has the best first class flights to Amsterdam. Luckily for you, we're here to answer just that.
Flying First Class to Amsterdam on KLM Royal Dutch Airlines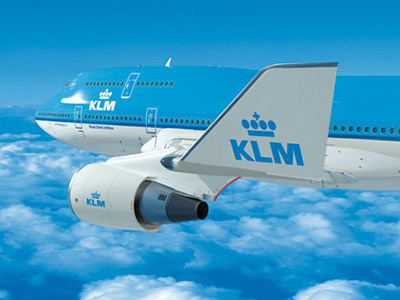 When it comes to flying to Amsterdam, KLM Royal Dutch Airlines is a first class flying experience above all the rest. Based in the Netherlands, KLM has been around since 1919. That's a long time they've had to get their first class product just right. In the world of luxury airlines, it can be hard sometimes to tell one from another. Almost all first class cabins are designed for maximum comfort no matter which airline you choose. But, many first class cabins are uniform across the entire industry. Not much sets one apart from the other. KLM, on the other hand, has managed to infuse some of its Dutch culture into its planes, elevating its first class flight experience by customizing it with its own unique cultural flair. Eric Rosen from the Points Guy noticed this on a recent flight to Amsterdam:
The cabin and seats were designed by Dutch industrial designer Hella Jongerius, who incorporated some interesting touches, like the airline's traditional palette of blues and some warmer purple and brown tones. In fact, the carpets in the new cabins incorporate recycled KLM female flight attendant uniforms, so you'll see some flecks of that signature teal-blue underfoot.
This is the kind of detail that makes your flight feel a little bit more unique, something you want when paying to fly first class. When airlines go out of their way to hire renowned designers, it's a good sign that they're always thinking about your experience and how to better it. Don't settle for cookie cutter; opt for a company like KLM that custom tailors its first class cabins to say something about itself and its culture.
Flying In Style on KLM's First Class Flights
From renowned designers to renowned chefs, KLM has gone all out in making its first class flight to Amsterdam truly one of the best. In designing a luxury flying experience that will truly excite, KLM truly pushes the envelope to create a unique and memorable experience. Elaine McArdle of the Whole World is a Playground found that out on a KLM flight from New York to Amsterdam:
After discovering that the menu had been designed by the three Michelin Star chef Jonnie Boer we were excited for the dinner service. Our choices included a cold starter or soup, a selection of 3 mains and dessert, fruit or a cheese plate.
Foodies travel all over the world to taste the cuisine of three Michelin starred chefs, and here it is being served to as part of your first class flight to Amsterdam. What better way to whet your appetite for your vacation abroad than to serve you some of the local cuisine on your flight there! All of this is included in the price of your first class ticket to Amsterdam.
So, who has the best first class flights to Amsterdam? The choice is clear; it's KLM. Sparing no effort to create a truly exquisite first class flying experience, KLM gets everything about your flight to Amsterdam right. The atmosphere, the food, the service, you'll love it all. We hope you get to fly this terrific airline. And once you do, we bet you'll keep flying on it. Bon voyage!