If you've always traveled in economy class, you may not realize the amazing benefits that come along with premium tickets. Business class provides an entirely different travel experience, taking what can often be an exhausting and frustrating situation and turning it into a wonderful way to reach far away destinations, such as business class flights to Nice, Venice, or Barcelona.
Many people associate flying with noisy and crowded airports, cramped seats aboard the plane, terrible food, and lousy service. But not people who find great business class deals!
Choosing to travel business class on airlines is the best way to ensure that you have an incredible experience from the moment you arrive at the airport until the end of your trip. It all starts with the priority boarding options, allowing you to save time and avoid the long lineups. And then there's the airport lounge access. Business class lounges provide a serene and posh environment to spend time either before or after a long flight. You will feel relaxed as soon as you enter.
Enjoy exceptional cuisine and high quality beverages while watching your favorite movie, or be productive in fully-equipped professional work spaces, featuring the latest technology. Recline in exceptionally comfortable seats, or treat yourself to exclusive spa facilities to rejuvenate your senses during your journey.
As if this isn't already incredible, perhaps the best part of finding business class deals is the comfort aboard the plane! Business class travelers aren't cramped together like those in economy class. In fact, most business class seats recline to become fully-flat beds, allowing you to actually sleep comfortably during your flight. And then there's the superior food.
Business class cuisine is exceptional, featuring five-star dishes, such as black caviar, filet mignon, and many other delicacies prepared by top chefs. Do you want a drink with that? Take your pick from fine wines and top-shelf spirits. You will be amazed at the quality of the food, the comfort of your seat, and the exemplary customer service when traveling in business class.
Are you convinced yet? We bet you are! Here's a snippet of luxury lifestyle blogger Amelia's experience flying business class to get you even more excited about the potential of premium travel:
"Flying Business Class has always been a bucket list item of mine – I've lost count of how many times I've stepped onto a plane and longingly looked left when being directed in the opposite direction by the cabin staff to my economy seat!
So when I got the chance to fly Business Class with Qatar Airways on my way to Krabi I was so incredibly excited! Here's what it's like behind that curtain in a world of in-flight luxury!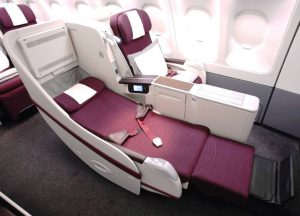 Ok, so aside from the free champagne (we'll get to that in a minute) the seats are the big bonus of going Business. Fully controlled from a simple foot rest to a fully flat bed you can sit, lounge or lie however you like throughout the flight which on a long haul is an absolute GOD SEND.
With plenty of storage space for all your bits and bobs, charging stations, pillows, blankets, personal tv and a partition between you and your flight buddy you really do feel like you're in your own little pod of luxury! I stayed awake on the first leg of my flight to enjoy the epic selection of movies and tv on board (and sample the fizz and food menu!) but on the second leg I snuggled down and drifted off into a full 7 hours of sleep…in my business class PJs. Yes, they give you pajamas!
The headphones also blew me away as they have incredible noise cancellation technology and great sound. I was always surprised when I took them off to head to the bathroom at just how quiet they made the cabin – there was even a baby crying at one point that I had no idea about until I took them off! Incredible!
Even the toilets are more spacious with a window and more room to move about. Rituals products for you to use such as body spray and moisturiser along with toothbrushes and toothpaste and even razors. A true pleasure and always immaculate.
With little Georgio Armani amenity bags and a wealth of entertainment at your fingers tips Qatar have thought of everything to make your journey as pleasurable as possible. The entire flight simply flew by for me!"
Now who wouldn't want an experience like that? Forget about the exhaustion and frustration of economy travel! Purchase business class tickets from a reputable agency that specializes in premium travel, and you will be certain to enjoy a wonderful trip, allowing you to be relaxed and refreshed, fully ready to enjoy your destination upon arrival.