Flying first class is something a great many of us aspire to. Taking economy, flight after flight, can be taxing. The average American flies multiple times a year, wouldn't it be nice if it could be something we actually enjoy doing? By booking first class flights, it can be. But is there a way to get cheap first class airline tickets? Yes, there is. It may take a little bit of your attention, but by having a better understanding of how to find discount first class airline tickets, you could find yourself flying on superior flights, and for superior savings too! Many travelers will pay whatever price they first see, but by doing a small amount of digging around, you can do better. Don't settle for less, start saving money on first class flights, now.
How To Get Cheap First Class Airline Tickets?
Like everything else in life, there's a human element to air travel. That's why it's important to present the best version of yourself when trying to book your first class flight. By being kind and polite to the airline staff, you have a better chance of getting upgraded to first class. Getting your ticket upgraded is by far one of the best ways to find cheap first class airline tickets. You paid for economy but you fly first class! This is one case where it pays to be on your best behavior! The following infographic shows us ways that you can present yourself in order to be first in line to get your tickets upgraded to first class: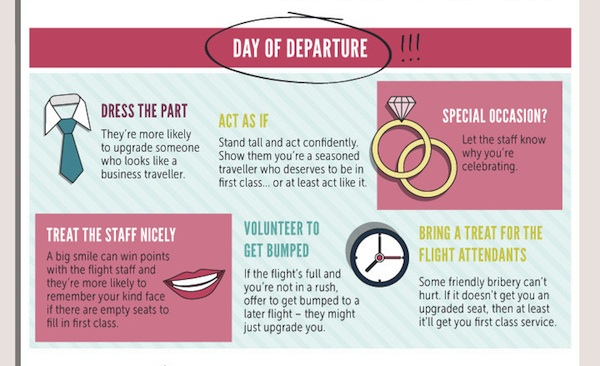 We'd all like to think that we have perfect manners all of the time, but flying can be stressful, and it can be easy to forget to be pleasant. And don't be afraid to let the staff know if you're celebrating something. Is it your birthday? Tell a flight attendant. The worst that could happen is you'll get a nice smile from them, but you might just luck out and find yourself celebrating your birthday in style flying in the luxury of first class!
Join Frequent Flyer Programs to Find Cheap First Class Flights
Another secret to finding cheap first class airline tickets is to join one of the airline's loyalty programs. It's amazing how many people fly all the time yet don't reap the rewards. By becoming a member of one of these programs, you can start saving right away. This travel blogger agrees:
If you're a frequent flyer one of the smartest things you can do for yourself is to become a loyalty member of an airline. Choose an airline that you use the most. Also, before you commit to a program check the airline partners as well. This will be helpful in the long run because you can use your airline miles on another airline that has partnered with yours.
By joining a loyalty program, and then flying with that airline as often as possible, the benefits can be enormous. You've heard of people flying first class for almost nothing? This is probably how they did it. The trick is to book with that specific airline, even if the cost might be a little higher than an alternative. For example, if you're flying New York to Los Angeles, and United has a flight for $50 cheaper than American, but you're a loyalty member with American, book American. While you lose $50 on that particular flight, your savings in the long run will make it well worth it.
Whatever your reason for flying, you deserve to do it in style. So many travelers assume they can't afford a better flying experience without ever trying to better their circumstances. By following a few of these insider tips for finding first class airline tickets for cheap, you just might find yourself up in the air with a glass of bubbly, draped in a complimentary blanket. So get out there and find your cheap first class airline tickets.