Ensure an Enjoyable Trip with Business Class Flights
Frequent flying can either be an exciting adventure or an exhausting experience. For those who spend a lot of time traveling for work or for pleasure, there is nothing that ensures an enjoyable trip more than business class flights. There are massive differences between premium and economy travel, and it's possible to find great business class deals if you utilize the services of a reputable agency that specializes in obtaining discounted tickets.
If you love to travel but you're sick and tired of the annoyances of economy class, consider looking for business class flights to Florence, Amsterdam, Frankfurt, or another great European destination for your next trip and get ready for a wonderful experience.
If you decide to travel to Europe on your own, check out Travel + Leisure's list of the 14 Best European Cities for Solo Travelers:
Lucerne
Reykjavik
Helsinki
Bergen
Vienna
Edinburgh
Dublin
Bruges
Stockholm
Copenhagen
Business Class Dining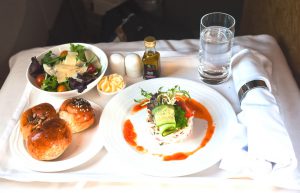 One of the many common complaints about air travel is the horrible food served in economy class. The barely edible dishes are hard to even identify, and the reheated slop will truly leave you with a stomach ache and a bad taste in your mouth. But business class flights are completely different! Premium travelers feast on incredible cuisine prepared by top quality chefs, with exquisite options such as filet mignon, lobster and black caviar. And the drinks are amazing too! Take your pick from fine wines and top-shelf spirits, allowing you to enjoy five-star dining while sailing through the skies to your destination.
The Perks of Business Class Flights
Even before you board the airplane, purchasing tickets for business class flights provides you with many incredible perks, including gaining access to exclusive airport lounges. As soon as you enter the serene and lavish environment, you will feel completely relaxed. These wonderful lounges are the perfect place to spend your time either before or after a long flight, featuring absolute comfort throughout. Premium travelers are certain to enjoy relaxing while watching their favorite movie, or simply reclining on comfortable furniture while reading a book.
For those who want to be productive, business class lounges feature fully-equipped work spaces with the latest technology in a quiet and professional environment. Enjoy top quality cuisine and a wide selection of premium beverages while you wait for your flight to depart, or take advantage of luxurious spa treatments to rejuvenate during your travel time.
Imagine being able to avoid the noise and crowds of the airport the next time that you travel on business class flights. Premium travelers also gain access to priority check-in opportunities, allowing them to skip the long lines and board the plane easily. You'll be the first to get on the airplane and your baggage will come off first once you arrive. These details can really make a massive difference in the enjoyment of your trip, and will ensure that you feel your very best along the way.
Comfort Aboard Business Class Flights
Although all of these aspects of business class flights are wonderful, perhaps the best part of premium travel is the comfort aboard the plane. Forget all about being cramped into a tiny seat in economy class with no leg room. Business class flights provide travelers with an incredibly comfortable and spacious seat that reclines to become a fully-flat bed. Imagine being able to get proper sleep during a long flight, allowing you to arrive feeling rested and refreshed, fully ready to enjoy your destination. Additionally, the service in business class is far superior to economy class, with a much higher staff-to-passenger ratio to guarantee an enjoyable experience during your flight.
There's no question that business class flights are the best way to travel. Enjoy incredible cuisine, exemplary customer service, absolute comfort, and a vast range of perks by purchasing tickets on business class flights for your next trip, and get ready for an incredible experience from the moment you arrive at the airport until the end of your journey.