With its gorgeous beaches, lush rain forests, scenic waterfalls, and untamed natural beauty, it's easy to understand why Hawaii has become synonymous with paradise. Whether you're traveling for business or for pleasure, these lovely islands have something for everyone.
Just picture yourself in the lap of luxury, reclining comfortably at an exclusive Hawaiian resort, enjoying the finest comfort and most decadent cuisine imaginable as you bask in the island sun. But why should the luxury only begin upon landing at this fabulous destination? First class flights to Hawaii are the obvious choice for the discerning traveler who cares deeply about the finer things in life. Finding the best first class flights to Hawaii for a price you can actually afford is actually not as hard as you might think too!
The Best First Class Seats to Hawaii
So you've decided to book tickets for your first class flight to Hawaii…GREAT! You're super excited to get going on your fantastic trip flying first class to Hawaii! You've done your research, scoured the web for the best first class flight deals, found the cheapest first class flights available online and can't wait to get packed and get on your way! Well, not so fast! There's an oft-overlooked detail that could make all the difference for you when you take this long haul flight across the oceans. It's all about finding the best first class seats: not all first class seats are created equal! What sounds more comfortable to you? Angled semi-reclined seating, or seating that reclines fully into a flat bed? That's a no-brainer! However, it can sometimes be difficult to tell which types of first class seats you're actually going to end up with, so here is some expert advice on choosing the best first class seats from people who really know how to pick them!
Travel-blogging sisters Patti and Matilda of thetravelsisters.com have some fascinating insight into making sure that you get the best first class seats, the highly coveted flat-bed seats that let you truly stretch back and relax during your first class flights to Hawaii.
When I first started researching award flights to Hawaii, I was determined to book a first class flight with fully lie-flat seats. Many first class flights between the mainland United States and Hawaii have first class cabins with either recliner seats or angled lie-flat seats rather than fully flat beds. Some airlines clearly state when a flight has a flat bed but some do not.
In other words, it's imperative that you pay close attention to which airlines you book first class tickets with, as well as to the airplane seating chart when you choose your first class seating. Otherwise, you might be in for an unpleasant surprise, crammed in some cheap first class seats that sounded great in the brochure but left you cramped and uncomfortable. You paid for first class tickets for a reason and deserve the absolute best first class seats available!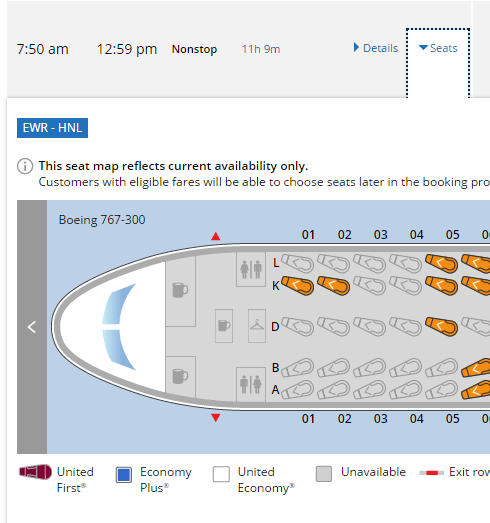 The above graphic illustrates a United Airlines seating plan that includes their best first class seats you can score, the fully lie-flat seats in the first class zone. Hawaiian Airlines and Delta Airlines always indicate whether their first class seats are angled reclining or lie-flat when you book. So make sure to pay attention! Patti and Matilda also advise to be careful booking with American Airlines, which is known to switch planes shortly before boarding, so first class travelers may not actually end up with the best first class seats that they originally purchased.
Booking First Class Seats to Hawaii
Armed with this knowledge, you'll be sure to have the most comfortable flight possible when you take first class flights to Hawaii. When you travel in the best first class seats that can fully flatten into beds, you avoid any risk of sleep deprivation, sore neck, and cramped legs that occur when you are relegated to the inferior angled reclining seats. So choose wisely! Contact us today for cheap first class flights to Hawaii and you'll be saying 'aloha' from the moment you board your plane and will arrive feeling energized and ready for your visit to paradise!