Vienna is one of the great European cities, with a vibrant culture and unique architectural character, making it a wonderful destination for world travelers. Whether you are visiting for work or for pleasure, you can make the most of your trip by flying in style.
Choosing business class flights to Vienna will guarantee that your travel time is filled with luxurious treatment, from top quality cuisine to exceptional comfort aboard the plane. The most discerning travelers know that booking business class flights to Vienna is the best way to ensure a highly memorable trip from the moment you arrive at the airport until the end of your journey.
Vienna Airport and Business Class Lounge
Initially built as a military airport in 1938, Vienna International Airport is located 11 miles southeast of the city center. The facility features four modern terminals and is known for being an efficient airport for international travelers. Purchasing tickets on business class flights to Vienna will provide you with access to exclusive airport lounges, featuring top quality cuisine and beverages in a lavish environment. You will feel relaxed as soon as you enter, allowing you to make the most of your time either before or after a long flight.
Business class lounges include professional areas to get work done in a quiet environment, in addition to a vast range of entertainment options for those who want to relax and unwind. Take advantage of exclusive spa treatments, or simply recline on comfortable furniture while reading a book or watching a movie. The choice is all yours. Purchasing tickets for business class flights to Vienna will ensure that you gain access to the very best services and amenities during your travels.
Things to Do In Vienna
Vienna is an incredible city to visit, featuring a fascinating combination of deep history and cutting-edge design, art, cuisine, and architecture. Museum and gallery lovers will be delighted by the vast number of places to visit after arriving on business class flights to Vienna, with some of the highlights being Albertina Museum, Haus der Musik, MuseumsQuartier, Wien Museum Karlsplatz, Judenplatz Museum, and 21er Haus.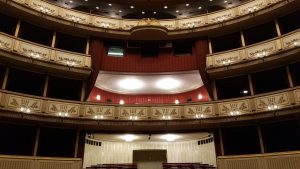 The architecture in the city is absolutely stunning, so be sure to see the top sights during your trip, including Hofpavillon, Schweizertor, Haas-Haus, and Gloriette. Vienna also has a vibrant culinary scene, with many top chefs creating innovative, world-class dishes. Get ready for a wonderful experience when you're ready to dine by visiting Zum Schwarzen Kameel, Restaurant Edvard, Steirereck, and CO & CO Albertina. For a night out on the town after arriving on business class flights to Vienna, check out the city's vibrant club and music scene at Fluc, Motto am Fluss, Porgy & Bess, Pratersauna, and Cafe Carina.
For even more sightseeing opportunities, check out BigBoyTravel.com's Top 10 Things to Do in Vienna including: Schonbrunn Palace and garden tours, the Vienna State Opera House, or the Capuchin Imperial Crypt.
Getting Around Vienna
After arriving on business class flights to Vienna, most visitors find that public transportation is the best method for getting around. Both tourists and locals use buses, trams and trains as a convenient way to travel throughout the city. It's generally advisable to avoid driving in Vienna, as parking is difficult to find in many areas, and the one-way streets can be hard to navigate for first-time visitors. If you want to avoid public transportation, taxis are relatively inexpensive, and provide another convenient way to visit all destinations within the city.
Flying on business class flights to Vienna is guaranteed to make a world of difference in the quality of your trip. Instead of arriving tired after your journey, booking a premium ticket will provide you with exceptional services and exemplary treatment along the way, allowing you to feel your best throughout your travels.