When it comes to travel, there's a natural ebb and flow to things. People all over the world tend to follow certain patterns when it comes to taking flights. For example, we all know that the holidays are a hectic time to travel. Anyone who's ever been to an airport in late December can attest to that.
Most of us realize when an expensive time to travel is, but it can be difficult to know when the opposite is true. If you're in the market for a business class flight, this information can be especially helpful. As we all know, business class flights cost a bit more than economy, but if we know when to book, you can find some of the best discounted business class flights available.
When to Book Business Class Flights to Europe for the Best Discounts

The first thing we need to acknowledge is that peak travel times vary depending on the destination. Obviously, warmer destinations are more popular in the frigid winter months, while more moderate climates are most desired in the summertime. Since Europe is one of the top travel destinations for eager adventurers, let's take a look at what months are the best to find discounted business class flights with the help of this infographic: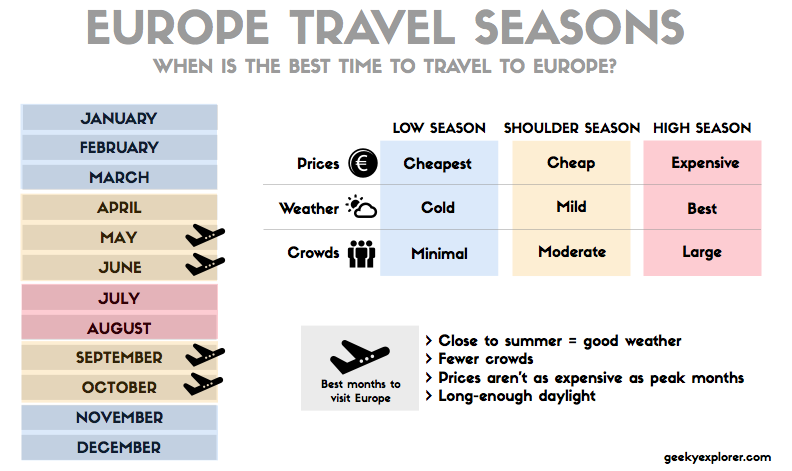 As you can see, the best times of the year to find discounted business class flights to Europe are during the winter months. The middle of summer is the most expensive, and all the other months fall in between. If you can plan your trip for the winter, do it. If you can't, just try to avoid July and August.
Best Days of the Week to Find Discounted Business Class Flights
While it's wise to book during the best times of the year to find discounted business class flights, the day of the week you choose to fly on can be equally important if you want to save a lot of money on your flight. Using the same logic of following people's typical travel rhythms, we can also deduce which days will have less demand, thus saving us money. A travel blogger explains:
When do you think most people fly? Business travelers typically fly out on Sundays and Mondays, and return home Thursdays and Fridays. Leisure travelers usually fly out on Fridays and return home on Sundays. That means the best days to fly on Tuesdays, Wednesdays, and Saturdays. There are always exceptions, but keep that in mind when booking your next trip.
Not everyone has the flexibility to choose which day to set off on a trip, but if you do, you're more likely to find a good discount. By flying on Tuesdays, Wednesdays or Saturdays you can save a good chunk of change.
Flying business class is a luxury that any traveler can afford if they know what to look for. By staying flexible and searching for flights that may be in lower demand than at peak times, you can find cheap business class flights that are totally within your reach. And, the truth is, many parts of Europe are lovely during the winter. Spain has beaches that are full of happy people reveling in the sun all year round. So don't be afraid to book that flight at a less popular time if it means scoring discount business class tickets! Pleasant travels!