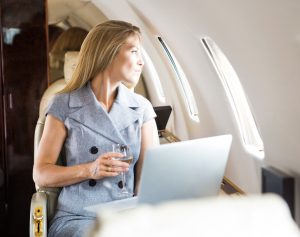 When you're flying business class to Paris or London, it's easy to get bored or to want to sleep the whole way. While sleep might be an option, is that really the best way to spend your entire flight? No. No it's not. Fortunately, there are some pretty great ways to make use of all that time spent in trans-Atlantic transit!
No matter your hobbies, it's likely that you can practice during your flight. Business class flights overseas can be boring, so why not spice them up with some of your favorite things? If you're fresh out of ideas, here are some of the best ways to stay entertained while flying business class to London, Paris, or even Rome.
Catch up on Reading
Whether there's a book you've been dying to read or you simply want to get caught up on your favorite magazines or literary journals, a long flight is definitely the time to do it. After all, you're equipped with a little light and a good chunk of free time during your flight. Why not use it to get a good start on a book you've been wanting to read? It doesn't matter what you read, so long as you enjoy yourself and feel like you're getting something accomplished. You'd be amazed just how much reading you'll be prompted to do while you're traveling!
Practice Makes Perfect
As of 2013, most airlines allow the use of laptops, tablets, and cell phones once the plane has reached a certain altitude. This means it's time to brush up on your skills! U.S. residents logged almost 459 million trips for business in 2015 alone, and all of that time can in transit can be used to hone a talent or skill, especially those on a computer. If your goal is to master photo editing or even a language, you can now do that on a flight!
Movies
When you've finished practicing your editing skills or your eyes are tired from reading, there's nothing wrong with watching a good old fashioned movie on your laptop or your tablet. Pick one of your favorites and download it before you hop on your plane and fly to London, then you're all set for the last leg of your trip.
Whether you're flying across the country or across the sea, there's no shortage of ways to entertain yourself during your travels. Pick a good book, grab your knitting needles, and you'll be all set for flying business class.